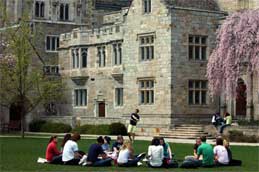 Yale University's English Language Institute offers six-week intensive English language courses as well as graduate and professional seminars every summer in New Haven. These seminars are designed to address the language and discipline-specific needs of students, business professionals and law professionals.
Students receive practice in the oral and written communication skills needed to succeed in graduate work, graduate management programs, medical studies, or advanced legal studies. Assignments are designed to provide orientation to vocabulary and concepts of the discipline and to give practice in the kinds of work that will be required of students.

To apply to Yale's 2011 programs, students must complete an application form and a housing application; these must be submitted with the initial fees -- $50 application fee (non-refundable) and a $200 tuition deposit (refundable if a student is not admitted).

Enrollment is limited. Applications due on June 6th for summer 2011. For more information please visit: http://www.yale.edu/eli/