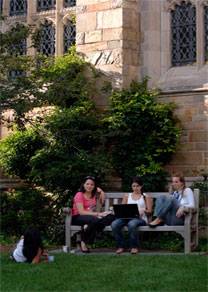 There is one month left to apply for Yale University's six-week summer intensive English language courses and professional seminars (communication, business, and law). The courses run June 27 - August 5, and are held on Yale's beautiful campus in New Haven, Connecticut. Because class sizes are small, on average 12 students, each student can contribute to the group and learn from his peers.
The mission of Yale Summer Session is to nurture and inspire intellectual growth in a community of summer scholars from various unique cultures and backgrounds. This promotes Yale's tradition of academic excellence. While they learn the English language, summer students share ideas, interests, talents, and cultures.
Enrollment is limited. Applications due June 6 for summer 2011.
For more information please visit: http://www.yale.edu/eli/