Issue Number 190 - December 2014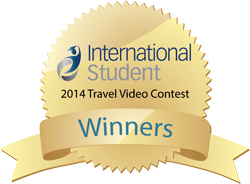 As the year comes to an end we want to wish each of you a happy holiday season. Take some time to relax, drink some hot chocolate, and reboot for the new semester! On behalf of the team at International Student, thank you for helping to make our Travel Video Contest — and all of 2014 — so memorable.

Travel Video Contest Winner
We would like to congratulate our 2014 Travel Video Contest winners! If you have not already checked them out, take a look at these amazing videos:

Thanks to all who entered and stay tuned for Danielle's very own Study in the USA blog!

---
Questions? Hiram College Answers
Frank Bowman from Hiram College is our December guest advisor. Frank is the Director of International Admissions at Hiram College and he's ready to answer your questions on studying in the US.
2015 Student Insurance Coverage
Yes, its already time to start thinking about your insurance coverage for the new 2015 semester. Our plans start at just $30/month for coverage in the USA and $27/month for coverage around the world.
Featured Schools Of The Month
Northwestern College - Our newest Featured School, Northwestern College is a Christian liberal arts university-level institution in the midwestern United States in Orange City, Iowa. U.S. News & World Report ranks Northwestern College 6th among 95 midwestern colleges.
Hiram College - Hiram is a coeducational liberal arts college of about 1,300 men and women located in the historic Western Reserve region of Ohio. Students come from 35 states and 30 countries - and represent more than 25 different religions.
SIT Graduate Institute - The Graduate Institute offers master's degrees and graduate certificates in a variety of fields related to international education and sustainable development. They have locations in Brattleboro, Vermont and a branch campus in downtown Washington, D.C..
Studying Abroad In The UK
Want to study in the UK? Join Bryanna on Dec. 18th at 11AM US Eastern Time for a live Google Hangout where she'll give you key information about studying in the UK.
Maximize Your Winter Break
Winter break is nearly here - so get ready to make the most of it! Here are some excellent ways to make the most of your time off and prepare for the new year.