International Student Newsletter - Issue 83
Updated on Tuesday 2 April 2013
In this issue:
Introduction
New Year, New You, New Insurance Plan!
Language-Learning.net, Find the Perfect Language Course
Need Money for School? Visit InternationalStudentLoan.com
Featured Article - Spain Insane
Student News - from around the world
Student Sound-off - HOT Topics from the mail bag
Featured Programs
Subscription Information
Final Note
1. Introduction
Another year is now upon us, and with 2005 fading in the memory we are hitting 2006 with a bang and some great new offers and features for you all! We have an interesting new article about studying in Spain written by one of our resident student writers around the world, we have 2 intriguing programs featured in the USA and Oz, the list can go on....
Hope you all have a great 2006!
Ross Mason
Editor - InternationalStudent.com Newsletter
Check out our blog -
http://www.InternationalStudentBlog.com

2. New Year, New You, New Insurance Plan!
Get the very best in student health and travel insurance from the student insurance experts available online 24 hours a day! We specialize in plans for international students and students studying abroad. Our plans offer:
- High Benefit Limits
- Flexible Plan Design
- Instant Coverage
- Global Coverage
To learn more about our great plans please visit us online at:
http://www.InternationalStudentInsurance.com/

3. Language-Learning.net, Find the Perfect Language Course
With a database of more than 10,000 schools teaching 88 languages in 115 countries, Language-learning.net features a language course search engine with an extensive range of search criteria.

Language-learning.net offers you the opportunity to search for language courses according to your personal criteria (e.g., location, course type, group size, accommodation, supplementary activities...).

Important details needed for a language holiday or study-abroad programme are also readily available, i.e. comprehensive information about language certificates, country and travel facts (immigration, insurance...). There are also sections on online learning resources as well as additional literature, links and tips.

Click here to visit the language-learning.net site: http://www.language-learning.net/

4. Need Money for School? Visit InternationalStudentLoan.com
The International Student Loan and Study Abroad Loan Programs from InternationalStudentLoan.com provide an excellent source of funding for international education. If you are either a US Citizen who wishes to study abroad or a non-US Citizen who plans to study in the USA, these loans are ideal.

The loans offer: - Competitive interest rates
- Online application service with preliminary approval in as little as 15 minutes
- Funding in as few as 5 business days from receipt of completed application
- Borrow (annually) the lesser of $30,000 or the estimated annual cost of attendance
- International students are required to have a US co-signer

To learn more about these excellent loan programs, or to apply online, please visit: http://www.InternationalStudentLoan.com

5. Featured Article - Spain Insane
I was the team leader of a group of college student s for one of the Institute for Foreign Study's semester break exchange program to Salamanca, Spain. I have never been to Europe before then and I am minoring in Spanish so needless to say, I was so excited and so ready to go and have my dream come true! Being an exchange student and experiencing first hand a culture completely different from your own and away from the protective wings of your parents is one of the life-changing things that I would never have gotten if it weren't for the programs like these.
I went to Appleton, Wisconsin for a whole year as a high school exchange student for a gap year and it has been four years since then and I can still say that I am a much better person because of it. I gained life lessons that have helped me throughout college and I know will help me in the future. That experience also helped me be a good team leader or an "ate" to the other girls who have never been away for so long before. I was also proof and a sp okesperson to the parents in letting them know that they were making the right choice in letting go of their kids - even for a little while - so they can experience the world on their own.
Four words: Best. Sem. Break. Ever.............
.....to finish this article, please visit our website:
http://www.internationalstudent.com/news/articles/spain_insane.shtml
6. Student News - from around the world
Number of International Students Worldwide Explodes!
ACROSS the world, more people than ever before are choosing to undertake an international education. Since 1980, the number of students enrolled outside their home country in courses of higher education has almost doubled. There were around 1.8 million international students in 2002 and recent projections suggest that the world's demand for international higher education could increase to eight million student places by 2025. . . Rapid economic growth in Asia has been the most important cause of the growth of trade in education over the past quarter century . . .
Click here to read the entire article:
http://www.blackenterprise.com/yb/ybopen.asp?section=ybng&story_id=87321545&ID=blackenterprise
7. Student Sound-off - HOT Topics from the mail bag
This month we have a few posts from our message board, each with a specific question/ query about studying abroad. Feel free to respond, give your advice and help each other out!
Q. Help! Essays...
I have looked at guides for essay help, and they are all about choosing a topic. All the colleges I am appling to have a specifi c topic, and one topic I could answer in one sentence. I am having problem elaborating on it.
Any ideas?
http://www.internationalstudentforum.com/viewtopic.php?t=2530
Q. Financial Aid for US High School Student I am a US high school student, and I am interested in studying at a private Canadian high school or UK 6th Form program. I do not want to go through a foreign exchange high school program, as I already have researched the schools I would like to attend.
Is anyone aware of financial aid for US high school students who want to attend a Canadian school or UK school?
Thanks for your help!
http://www.internationalstudentforum.com/viewtopic.php?t=2544
8. Featured Programs
American Intercontinental University - Study in Los Ang eles USA Are you an ambitious student from Germany, Australia, the Netherlands, Belgium, Norway, Canada or Sweden and looking for the perfect place to Study Abroad? Located in the heart of Southern California, American InterContinental University - Los Angeles is within minutes of the beach, famous Marina del Rey and the Los Angeles International Airport.
We have a combination of location, degree programs and an inspiring environment that makes us a destination of choice for international students. For more info and to have a counsellor contact you make a fast and direct enquiry HERE!
http://www.usmediainc.com/tracking/AIU%20Los%20Angeles/ad/377
AG Mate Academy - Australia AG Mate Academy is a NEAS accredited educational provider which is well-known for its fabulous location and affordable prices. AG Mate Academy provides students an environment of prestigious learning with a quality English education. Located in the heart of Sydney Australia, the School is easily accessible by bus, train and ferry from all parts of Sydney. Make an enquiry here:
http://www.hyperstudy.com//study_abroad/agmate_australia/?kbid=1383
9. Subscription Information
You are currently signed up to the InternationalStudent.com newsletter which we send out once a month containing information, news, resources and events for international students from all around the world. You can fully manage your subscription online via our website at:
http://news.edvisors.com/lists/?p=subscribe&id=2
10. Final Note
Thank you for reading the International Student Newsletter!
Please help us spread the word about the site and our newsletter by referring your friends - it's quick and easy! Simply visit:
http://www.internationalstudent.com/refer_friend/
Alternatively, we always welcome your feedback either online or by snail mail:
http://www.InternationalStudent.com/contact/
15 Cottage Ave, Fifth Floor, Quincy, MA 02169, USA
The End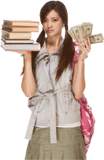 Compare Student Loans
Useful Resources