International Student Newsletter - Issue 86
Updated on Tuesday 2 April 2013
In this issue:
Introduction
TOEFL Scores Open More Doors
International Student Loans
TrekShare - Premier Online Travelogue
Featured Program - Schiller International University
Student News - from around the world
Student Sound-off - HOT Topics from the mail bag
Buy Your US Mobile Now, and Win an iPod Nano!
Language-Learning.net, Find the Perfect Language Course
Subscription Information
Final Note
1. Introduction
Hello, and welcome to the 86th issue of the InternationalStudent.com newsletter!
How time flies! The end of another school year is rapidly approaching, and with it comes planning for the summer and before you know it, next school year. When you study internationally, its always best to start your planning early. From program listings, immigration information and application timelines, to scholarships, loans and roommates, InternationalStudent.com will be here to help you along the way.
Ross Mason
Editor - InternationalStudent.com Newsletter
Check out my blog -
http://www.InternationalStudentBlog.com

2. TOEFL Scores Open More Doors
The TOEFL test is the best academic English-language test in the world. It is accepted by 6,000 colleges and universities in more than 100 countries, including the United Kingdom, Australia, New Zealand, Canada, and the United States. And that means more opportunity for your academic success.
Why do so many schools recognize the TOEFL test? Because it measures the English-language skills you'll use when you study, so success on the test means success on campus from day one. And it provides fair testing, with the unbiased, objective scoring schools rely on to help them make vital decisions.
No wonder the TOEFL test has been taken by more than 18 million students worldwide!
Open the door to your future. Register for the TOEFL test NOW.
http://www.internationalstudent.com/go.php?id=144
Copyright 2006 by Educational Testing Service. All rights reserved. ETS, the ETS logo and TOEFL are registered trademarks of Educational Testing Service.
3. International Student Loans
InternationalStudentLoan.com offers loans to international students studying at approved schools in the US or Canada, with a US co-signer. These are credit-based, true student loans, with a non-profit guarantor, which include the following features:
* Easy online or phone application, no collateral is required
* Pre-approval decision in as little as 15 minutes
* Funding direct to the student in as few as 5 days
* Deferred repayment while in school
* Competitive interest rates
* Thousands of approved schools
To learn more about International Student Loans, or to apply online, go to:
http://www.InternationalStudentLoan.com
Apply by phone: Toll-Free: 866-235-2255 Direct: 617-535-7710
4. TrekShare - Premier Online Travelogue
TrekShare is the premier travel publishing resource on the net. It has been developed and tested with the user specifically in mind over the course of five years, spanning every corner of the planet. Our editing features, privacy concerns, and relevancy are unparallel.
The technologies behind TrekShare enable effective web publishing while providing a resource of aggregated travel information and contacts to the people behind the photos, stories and tips. We invite you to start your travelogue today. Make friends with like-minded travelers, get inspired and be in the know before your adventure begins.
Join today for FREE
https://www.trekshare.com/
5. Featured Program - Schiller International University
Schiller International University (SIU), located in Dunedin, Florida offers a unique practical training program in which international students are allowed to work in Full Time Employment in American companies while studying for their master degrees. This program (sometimes known as a "co-op" or "internship" program) is available at Schiller in Master's of Business Administration in the following concentrations
- Hotel and Tourism Management
- International Business
- Information Technology
Find out more and pre-apply online at:
http://www.internationalstudent.com/schiller/
6. Student News - from around the world
International Grad Applications Rise in US International students are showing more interest in coming to the United States for graduate studies after a post-Sept. 11 attacks drop-off, a welcome development for American universities and policy-makers. A report released last week by the Council of Graduate Schools finds international applications were up about 11 percent last fall, following a cumulative decline of 32 percent over the previous two years. The downturn, blamed on visa delays, anti-Americanism and growing competition from foreign universities, had prompted alarm in US academia and in Washington. Universities depend on foreign graduate students for research and teaching help, particularly in the sciences. The report shows large gains in the volume of graduate applications from China, with a 23 percent, and India, with a 21 percent increase.
Read more in the Sioux City Journal online
Employment Proposal to Benefit Alberta, Canada International Students
International students may soon have better chances of finding employment, as the Canadian federal and Alberta provincial governments are working together to help foreign students apply for work visas that would allow them to find jobs off campus.
Alberta Advanced Education Minister Dave Hancock explained that a proposal is currently in the works. "The Alberta government is in the process of finalizing an agreement with the federal government that will allow international students to work off-campus," Hancock said. At present, international students are only allowed to find employment on campus.
Read the entire story in the University of Alberta online newspaper, the Gateway:
http://www.gateway.ualberta.ca/view.php?aid=5944
7. Student Sound-off - HOT Topics from the mail bag
This month we are delighted to introduce our new "Ask the Immigration Attorney" feature on our forums at http://www.InternationalStudentForum.com. Bill Kadarusman, an immigration attorney in Utah with a wealth of knowledge, answers as many questions as he can. Here's a question he answered which is of interest to many of our readers:
Q: Extending an F1 Visa.
I have been issued a F1 visa in Aug 2001 and it will expire in Aug 2006. This visa has been issued for the purpose of getting a Bachelors Degree. I have successfully completed my Bachelors in May 2005 and am currently working on my OPT. My OPT expires in May 2006 and I intend to gain work experience till then. After that, I want to get into a grad school program in the US. Assuming that I receive an I-20 by May from one of the grad programs I have applied to, what is the procedure to getting my F1 visa extended/renewed?? Like I said, my F-1 visa expires in Aug 2006 and the fall term will start in Aug 2006. I intend to visit my home country for the 3 mnth summer break between May and August. I would really really appreciate it a lot if anyone can shed some light on this issue. Thanks A LOT.
A: As an OPT holder you are still holding F-1 visa; in other words, your F-1 visa is not yet expired. It will expire in May 2006 when your OPT expires. Assuming you get admitted to graduate school before May 2006, you can extend your F-1 status with the new school. Your grad school should have an international office. They will be happy to issue you a new I-20 and help you get the F-1 visa. You can go home after you get the new visa.
To read more about immigration issues or on any other topic of interest to international students, click here to go to the InternationalStudent.com forums:
http://www.internationalstudentforum.com
8. Buy Your US Mobile Now, and Win an iPod Nano!
InternationalStudent.com and Fonepool.com have teamed up to give you the chance to win your very own 2Gb iPod Nano!
If you are coming to the US and will need mobile service, InternationalStudent.com offers US sim cards or mobiles that come with prepaid airtime packaged in. Your mobile or sim is delivered to your door, so you have your US phone number before you even leave home. Mobile and sim card prices are great already, but the chance to win an iPod Nano will make you want to buy today!
To get in the game, all you have to do is purchase either a sim Card or a mobile from us, and you will be automatically entered to the monthly draw. For more information about this great offer, please visit:
http://www.internationalstudent.com/prepaid_phones/ipod_nano.shtml
9. Language-Learning.net, Find the Perfect Language Course
With a database of more than 10,000 schools teaching 88 languages in 115 countries, Language-learning.net features a language course search engine with an extensive range of search criteria.
Language-learning.net offers you the opportunity to search for language courses according to your personal criteria (e.g., location, course type, group size, accommodation, supplementary activities...).
Important details needed for a language holiday or study-abroad programme are also readily available, i.e. comprehensive information about language certificates, country and travel facts (immigration, insurance...). There are also sections on online learning resources as well as additional literature, links and tips.
Click here to visit the language-learning.net site:
http://www.language-learning.net/
10. Subscription Information
You are currently signed up to the InternationalStudent.com newsletter which we send out once a month containing information, news, resources and events for international students from all around the world. You can fully manage your subscription online via our website at:
http://www.internationalstudent.com/newsletter/
11. Final Note
Thank you for reading the International Student Newsletter!
Please help us spread the word about the site and our newsletter by referring your friends - it's quick and easy! Simply visit:
http://www.internationalstudent.com/refer_friend/
Alternatively, we always welcome your feedback either online or by snail mail:
http://www.InternationalStudent.com/contact/
15 Cottage Ave, Fifth Floor, Quincy, MA 02169, USA
The End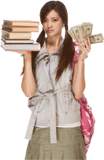 Compare Student Loans
Useful Resources