International Student Newsletter - Issue 82
Updated on Tuesday 2 April 2013
In this issue:
Introduction
Featured Program - Paid Internships at Schiller International University
International Calling and Phone Cards
Loans for International Students, Study Abroad
Language-Learning.net, Find the Perfect Language Course
Student News - from around the world
Student Sound-off - HOT Topics from the mail bag
Snow Kiting: The thrills of skiing & snowboarding without the lift lines
Practice FREE for the New TOEFL Test
Subscription Information
Final Note
1. Introduction
Welcome to the December issue of the InternationalStudent.com Newsletter!
During this busy holiday season, most of your thoughts will be turning to the time off from school and the opportunity to visit family and friends. When you start thinking about the new year and a new semester, InternationalStudent.com will be with you every step of the way, providing help and advice as well as access to great products and services.
We hope you enjoy the holidays and see you in the new year!
Ross Mason
Editor, InternationalStudent.com Newsletter

2. Featured Program - Paid Internships at Schiller International University
MBA Students - Earn Money While you Study!
Schiller International University in Dunedin, Florida offers a paid internship program for international Masters of Business students at Schiller who wish to work for American companies while they are also taking classes. These full-time paid jobs are open to candidates who have sufficient English ability, Bachelor's degrees, and work experience, and are available even in the student's first year of study.
Click here more more information on Schiller's unique program:
http://www.internationalstudent.com/schiller/

3. International Calling and Phone Cards
Q. How do you find the best International Calling Card to suit your needs?
A. InternationalCallingCard.com

Simply visit the brand new InternationalCallingCard.com where we guide you through the maze of International Calling and Phone cards. Our resource center has been designed to answer all your questions and find the right card to suit your every need.

For more information and to buy a card today, please visit:
http://www.InternationalCallingCard.com

4. Loans for International Students, Study Abroad
Studying abroad can be very expensive, and traditional forms of financial aid often do not apply. For instance, work-study funds and aid received directly from your school may not apply to your study abroad program. Or your study abroad program, with all of the additional travel costs, may be more expensive than your home school.

The International Student Loan and Study Abroad Loan Programs from InternationalStudentLoan.com provide funding for both US Citizens who wish to study abroad and non-US Citizens who plan to study in the USA.

The loans offer:
- Competitive interest rates
- Online application service with preliminary approval in just 15 minutes
- Funding in as few as 5 business days from receipt of completed application
- Borrow (annually) the lesser of $30,000 or the estimated annual cost of attendance
- International students are required to have a US co-signer

To learn more about these fantastic loan programs, or to apply online, please visit:
http://www.InternationalStudentLoan.com

5. Language-Learning.net, Find the perfect Language Course
With a database of more than 10,000 schools teaching 88 languages in
115 countries, Language-learning.net features a language course search engine with an extensive range of search criteria.
Language-learning.net offers you the opportunity to search for language courses according to your personal criteria (e.g., location, course type, group size, accommodation, supplementary activities).
Important details needed for a language holiday or study-abroad programme are also readily available, i.e. comprehensive information about language certificates, country and travel facts (immigration, insurance...). There are also sections on online learning resources as well as additional literature, links and tips.
Click here to visit the language-learning.net site:
http://www.language-learning.net/

6. Student News - from around the world!
Lincoln Commission Calls for 1 Million US Students Studying Abroad by 2017

The Lincoln Commission, a blue-ribbon panel of US educators and lawmakers, released its report calling for an increase in the number of US students studying abroad to one million annually by the year 2017, from the current total of approximately 190,000 per year. This ground-breaking report, titled "Global Competence & National Needs:

One Million Americans Studying Abroad" makes the strong case that dramatically increasing the number of US students that study internationally is critical to global competitiveness, national security and U.S. leadership. To help achieve the rapid increase, the Commission recommends funding new Abraham Lincoln Study Abroad Fellowships and Scholarships totalling $50 million annually, increasing over time to $125 million per year. Some brief excerpts from the report:

On the national importance of study abroad:
"What nations don't know can hurt them. The stakes involved in study abroad are that simple, that straightforward, and that important. For their own future and that of the nation, college graduates today must be internationally competent."

"Wise stewardship of the nation's well-being argues for a prudent course of action: ensure that many more undergraduates experience, study in, and communicate with other cultures so that they can learn to "hear" what others are saying, speak with them in their language, and continue to serve as goodwill ambassadors throughout their lives."

And on the theory of the Lincoln study abroad awards:
"Awards should be need-blind and merit-based, with the amount of the award determined by need and program length. Lincoln awards should never replace other financial aid or scholarships."

To read more from this ambitious report, go to:
http://www.lincolncommission.org/

7. Student Sound-off - HOT Topics from the mailbag
We really appreciate your patience with our message boards over the last month. I am happy to report that the forums are finally relaunched and revamped, so please visit to talk with and ask questions of your fellow international students at:
http://www.InternationalStudentForum.com/

Each month we feature a question submitted to us by email or to our forum. This month's question:

Q: I am interested in doing a Ph.D. in Geology in the U.S.A.
I need to apply for the GRE exam, Could somebody give information for doing the GRE test in Mexico? I will appreciate any information. All the best. Natalia.
A: The Graduate Record Examination (GRE) is developed and administered by the Educational Testing Service (ETS). ETS has testing centers all over the world; in Mexico they are in Mexico City, Guadalajara and Monterrey. The GRE measures your ability to handle graduate-school level work through verbal, quantitative, and analytical reasoning questions. Graduate school admissions committees use your score to gauge your abilities and compare it with those of other applicants.

For more information about the GRE, and how to prepare for it, go to:
http://www.internationalstudent.com/testprep/gre.shtml

8. Snow Kiting - The thrills of skiing & snowboarding without the lift lines
By: Collegian Travel & Adventure Magazine

The sport of Snow Kiting is the latest craze for adventures on the snow this winter. Snow Kiting has grown out of the popularity of its water-based cousin -- kiteboarding. Snow Kiting involves using large, highly controllable foil kites to propel riders with just the power of the wind!

Boarders and skiers can carve through powder and pull incredible airs without the need to be on a ski slope. All you need is a kite, a board or skis, some breeze and of course snow! No need for ski lifts, just head out... Click here to read more or to see a snow-kiting video: http://www.adventuretravel-studenttravel.com/snowkiting.asp

See Video Tours of great destinations, study abroad and adventure travel! Free Trips, Video Features, Travel resources, Gear, and Deals on more travel adventures can be found at:
http://www.adventuretravel-studenttravel.com/
"America's #1 Student Travel Magazine"

9. Practice FREE for the New TOEFL Test
Join the TOEFL PRACTICE ONLINE community FREE for official TOEFL practice materials that can help you improve your English communication skills and prepare for the new TOEFL Internet-based test (iBT).

There you can take a FREE TOEFL iBT PRACTICE TEST that features the Listening, Reading, and Writing sections and offers immediate feedback, sample Speaking questions and responses. Find the latest information about TOEFL iBT availability at:
http://www.internationalstudent.com/go.php?id=143

10. Subscription Information
You are currently signed up to the InternationalStudent.com newsletter which we send out once a month containing information, news, resources and events for international students from all around the world. You can fully manage your subscription online via our website at: http://news.edvisors.com/lists/?p=subscribe&id=2

11. Final Note
Thank you for reading the International Student Newsletter!

Please help us spread the word about the site and our newsletter by referring your friends - it's quick and easy! Simply visit:
http://www.internationalstudent.com/refer_friend/

InternationalStudent.com
15 Cottage Avenue, Fifth Floor
Quincy, MA 02169

Check out our blog - http://www.InternationalStudentBlog.com
The End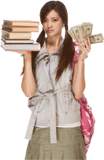 Compare Student Loans
Useful Resources