International Sim Cards
---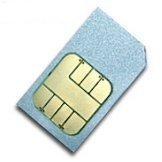 An international sim card can be one of the best ways to cut your roaming costs and international calling expenses when you travel or study abroad. Most people already have a mobile phone and many do not realize that you can take your mobile phone with you as it will work around the world.
To do this, you need to check that your phone is:
Tri or Quad Band Mobile Phone (most phones today are)
If you meet these basic guidelines, you can keep your current mobile phone and simply change the sim card in the back. It will instantly give you a local number, lower cost calls and you will totally avoid all roaming charges that are traditional when you use your phone abroad.
Currently we offer two sim card options in the USA, along with an Australian , Canadian and New Zealand product. They all offer the following great benefits including:
Free shipping anywhere in the world!
Inclusive calling credit with every sim
Option to purchase multiple sim cards (at a discount)
Low per minute international calling rates
and much more…
Please click on the appropriate country below to learn more and purchase your sim card online:
Please visit our international sim card page for more information about sim cards for other countries around the world.
Wholesale Distribution
If you are interested in bulk sim card purchases, we can deliver all our cards to you in 50, 100, 500 or larger quantities - all at heavy discounts. Please contact us if you are interested and we can provide you with the information and pricing on these cards.