---
Funding Study Abroad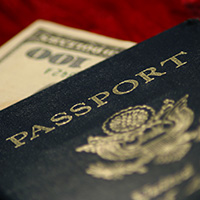 Participation in study abroad programs by US students is exploding, as more and more students, schools and employers recognize the vital importance of a global education. Even Congress is getting in on the excitement, introducing the Paul Simon Study Abroad Foundation Act in March, which is designed to dramatically expand and democratize study abroad by funding thousands of study abroad scholarships.
The goal of the Simon Act is to increase the number of US students abroad from the current 200,000 annually to 1 million within 10 years, focusing particularly on under-represented groups including lower-income students, and under-represented destinations like the Middle East and the developing world. Though aggressive, that goal is not unrealistic, as growth rates on US students going abroad are already quite healthy. Historic growth rates of 9.7% would get the number of US students abroad to about 640,000 by 2017; the Simon Act hopes to push that rate to 15% to achieve its goal.
The Simon Act recognizes what most students already know - the biggest hurdle to increasing study abroad participation is funding. Travel, exchange rates, international communication and simply living far from home all increase the normal burdens of tuition, fees and living expenses.
But there are strategies to help fund your study abroad – here's the first few steps.
Visit your Study Abroad and Financial Aid offices.

Your study abroad office or your program coordinator can provide guidance on a reasonable budget for your time abroad. Give your budget a careful reality check so that you can take advantage of travel and cultural opportunities. Choose a program carefully – London and Tokyo are much more expensive than the developing world. Then either your financial aid or study abroad office can help you sort out how much of your existing financial aid will transfer. Work study, institutional aid and some other types of financial aid often do not transfer fully to study abroad programs. Getting a handle on how much of your existing package will apply to your chosen program should be step one.

Research and apply for scholarships.

There are many scholarships and funding opportunities available for study abroad. Fulbright scholarships are well-known, but there are a host of similar, lesser-known awards. Start with online resources. International Student offers a large searchable database of scholarships for international study. Also, find out if your school offers any study abroad scholarships.

When it comes to researching and applying for scholarships, there is no substitute for hard work and preparation. Many are very competitive, so you've got to put your best effort into the application. Matt Brattin, winner of the 2006 InternationalStudent.com Travel Video Contest, chronicles the massive effort required to apply for the prestigious Jack Kent Cooke Foundation scholarship in his post.

Apply for loans.

Prestigious awards are tough to get, and many awards don't cover the full cost of studying abroad. After you've researched and applied for as many potential scholarships as you can, study abroad loans are available to cover any remaining amount of unmet financial need. At StudyAbroadLoans.com, students can apply for up to $50,000 per year, plenty of funding for just about any destination, and receive all the same terms as a standard student loan. Interest rates are competitive, repayment can be deferred until after graduation, you can apply online in minutes, and funding is fast and direct to the student. For more information or to apply online visit StudyAbroadLoans.com.
Study abroad is no longer just for well-to-do students at elite private schools. More and more, it is becoming the norm, an expected part of a complete education in an interconnected world. With effort and determination, almost any student can find a way to fund their study abroad.

Learn about the benefits of studying abroad.
Related Content: