Posted on February 16th, 2007 by Matt Brattin
So here I am again, pretty exhausted, but ready to relax during this three day weekend.  My wife and I just returned from a six-day "vacation" in Mexico.  One of her brothers, or my brother in-law, call him what you want, got married in the tiny town of Cotija, which resides in the state of Michoacán.  When we decided to make the voyage, we figured we might as well make the most of it and planned about three days and two nights in Mexico City to kick things off.
We made an exhaustive list of things to do and see prior to leaving and actually were fortuitous enough to cram most all of our plans into the allotted time.  Our list of objectives included seeing the pyramids in Teotihuacan and the basilica in la villa, taking a tour of the town, and visiting a long-distance co-worker, all while not getting sick from eating any strange food. This much activity in such little time isn't recommended for the faint of heart, nonetheless, when you only have three days to see a city with a population of 25 million, there simply doesn't seem to be a better way to do it!
The first destination my wife and I just had to see was Teotihuacan – I don't know how you can travel to this beautiful city and not make this trip!  We signed up for a small tour arranged by our hotel (Holiday Inn – Zocalo) and while it was unorganized at times, in the end it was well worth the $70…especially considering we dropped about $150 for a tour of Seattle on our honeymoon…but I digress. 
On the tour, we walked over two kilometers and climbed both the pyramid of the Sun and the Moon.  For me, this was quite an achievement, considering we were at a much higher altitude than where we live.  Add to that the fact that I have asthma, had knee surgery about six months ago, and am deathly afraid of heights and you've got a great big ball of reasons not to climb a massive pyramid!  Regardless, when I saw school children running up and down the pyramid steps past a man coming down with a cast on his leg, I realized any excuse I would try to conjure up would be moot, so we climbed, and it was incredible!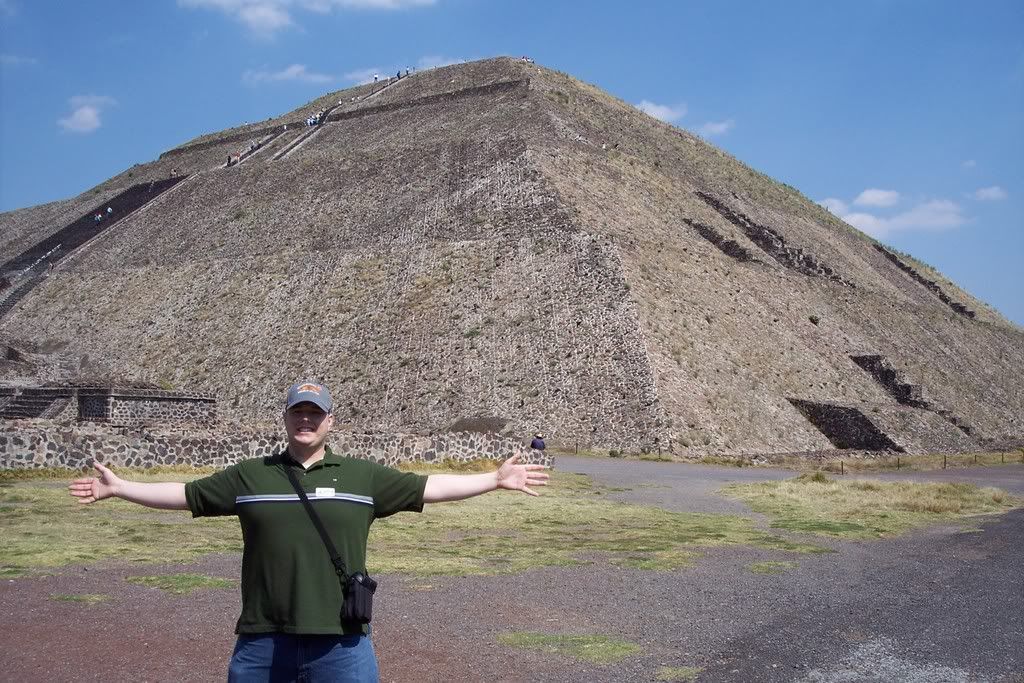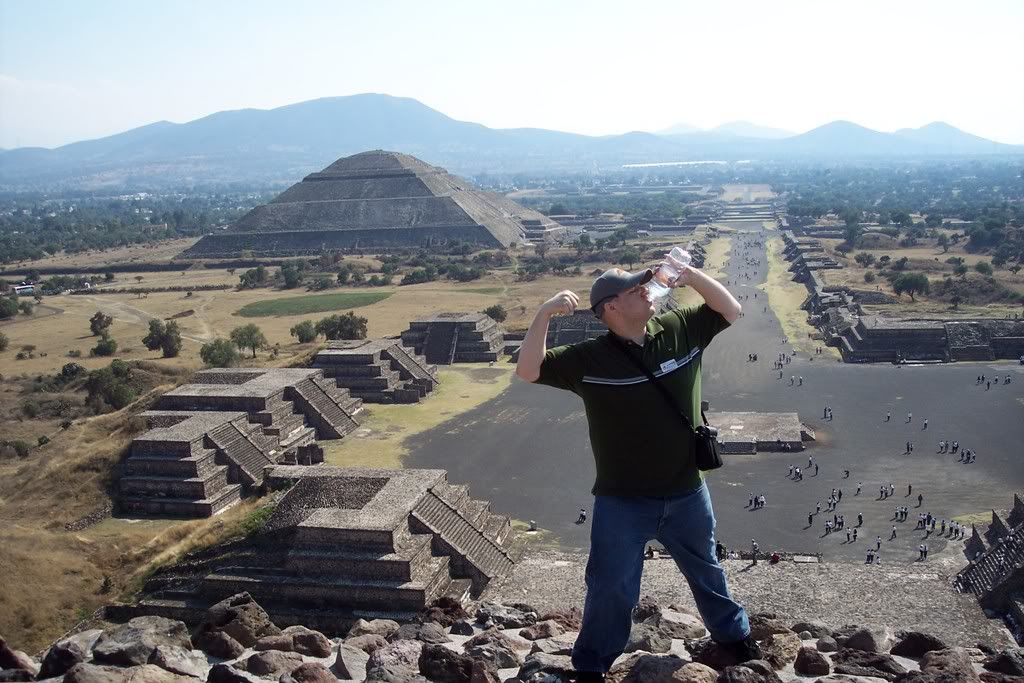 From here, our tour also included a convenient stop at the square of six churches (la villa) where we got to see the original "Guadalupe" and observe the leaning tower of Pisa-esque façade of the old basilica.  Mexico City has areas that are sinking, which has caused the old basilica to sink at a rate of 1" per year, and it was clearly evident during our visit.
In the evening after we saw the pyramids, my long distance co-worker and a friend picked my wife and I up from our hotel and took us out to a fantastic dinner and drinks.  We didn't expect to stay out dancing till 2:00am on a Thursday night, but apparently that's the norm in Mexico City!  After awaking Friday and recovering over breakfast, we headed out to tackle as much of the city as we could before we had to head to Cotija.
We chose to take a Turibus tour of the city, which to me seemed a bargain at about $20.  This provided transportation to 24 different key stops around the city and afforded us the opportunity to see more than I think even we expected.  We got to see Zocalo, the Palacio de Bellas Artes, the Angel de Independencia, and La Reforma, to name a few notable places.
In the end, I feel we accomplished more than would be recommended by most doctors, and I have 424 more digital photographs to add to my personal "tourist collection."  We enjoyed a great trip, and I'd love to return someday.  Cotija was a charming little town and proved a great place to recover from the hectic pace of Mexico City.  For now, however, it's time to get back to work and put the finishing touches on my Jack Kent Cooke application and try to get me some funding for my MBA!  
"Strange how much you have to know before you know how little you know." – Anonymous
3 Responses to "¡Viva Mexico!"
kabababrubarta Says:
March 26th, 2007 at 6:11 pm

Good site! kabababrubarta

costa caleta Says:
March 13th, 2008 at 12:57 am

No hombre yo lo digo pot hacer la coña, pero si es cierto que hoy en dia me da mucha pena esa gente que estudia periodismo y se encuentra con que lo mas interesante que tiene que investigar es la vida de un famoso casposo o que no tiene trabajo, por que su puesto lo ocupa un ex concursante de gran hermano ( TRISTE ) Realmente la tele la veia muy poco, ahora si veo mas, por que hay mas canales y menos corazon y eso se agradece. Pero realmente es duro vivir tan lejos sabes. 🙂 Asi que animo mi niña, que en lo…

Alden Deamer Says:
January 14th, 2011 at 3:21 am

I appreciate, cause I found exactly what I was looking for. You have ended my 4 day long hunt! God Bless you man. Have a nice day. Bye.
Leave a Reply