---
TOEFL Preparation Help From TestDen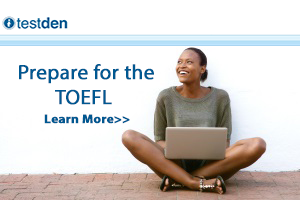 The US college admissions process is stressful and can be even more challenging for international students. If you are an international student from a non-native English speaking country, you will more than likely be required to pass the TOEFL. Although the TOEFL can be difficult, with the right tools at your fingertips, like a certified instructor, practice tests and course training, you have the ability to pass with ease.
Why Students Choose TestDEN
If you need to improve your TOEFL scores, suffer from test anxiety or would like to gain confidence in your English speaking, listening, reading and writing skills then TestDEN Online courses may be the solution for you. Launched in 1997, TestDEN has helped thousands of international students prepare for and pass the TOEFL.
TestDEN's TOEFL resources include training exercises, four timed practice exams and 2,400 additional practice questions. Their convenient online practice exams are a great way to gain confidence and raise your test score.
Use TestDEN From Anywhere
TestDEN's prep courses are fully online, making it easy and convenient to prep for your actual test! All you need is a computer and internet access in order to take advantage of all the online tools available. You'll have access to the course for 180 days and a 30 day money back guarantee.
Certified Instructors
TestDEN uses specially trained instructors to grade and provide feedback on your four full-length practice tests. This gives you the chance to look at your mistakes along with review an explanation of why it was an incorrect answer.
Practice, Practice, Practice!
TestDEN's timed exams and thousands of practice problems is the perfect combination to help you achieve a good score on the TOEFL. With four full-length, timed tests and 2,400 additional practice questions, you will be able to?
Getting into your dream college can be a challenging, yet rewarding experience. Choosing to study as an international student in the U.S. or Canada if English is your second language can be even more tricky. TestDEN is proven to be an excellent online resource for international students as they prep for the TOEFL. Learn more about TestDEN and how they can help you prepare for the TOEFL.