Funding for Community Colleges
---
Funding for Community Colleges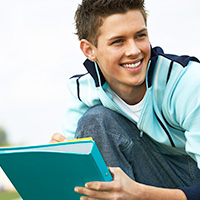 Even though more US colleges and universities are making financial aid and scholarships available to international students, most international students at US colleges and universities still must rely on their own sources of funds to pay for their education - like family funds, loans and savings. And the cost of education in the US continues to rise, both in tuition and other costs.
When trying to get funding for community college, you will first want to turn to scholarships. There are a number of organizations that have scholarships available for international students, it's just a matter of taking the time to find them! Scholarships can be awarded by your school of interest, or through another organization like a business, club or government.
When you apply for admissions at your school of interest, ask your international student advisor or an admissions representative of any scholarship opportunities that they are aware of that you might be eligible for. They will be able to direct you to any scholarships your school offers along with outside awards that they are familiar with. After you have tracked down awards through your school- look on a larger scale.
Search the web for sites that have scholarships specific to international students. This will cut down on the amount of time you will spend sifting through scholarships that you are eligible for. One great place to start is our international student scholarship database.
After you find a few scholarships that you are eligible for, gather all of the documents that are required for you to apply for the scholarship. These might include an essay, transcripts and letters of reference. Confirm the scholarship deadline and apply on time!
After tapping all of the available scholarship options, you will want to turn to international student loans. Lenders don't work with every school, so you will want to find a tool like this loan finder to save you time when searching and comparing lenders.
Why Community College?
Community colleges usually offer 2-year programs that provide an "associates" degree, at much lower tuition than a traditional four-year school. Armed with an associates degree from a community college, students can move on to a full college or university and complete their undergraduate degree in only 2 years. Instead of paying four years of tuition at the higher rate for colleges and universities, students pay two years of community college tuition and two years of university or college tuition.
For example, the University of Florida estimates annual tuition and living expenses for an international undergraduate student at $42,498 for the 2013 school year. Assuming that you could live on the estimated amount, and assuming no increase in costs over the four years (both questionable assumptions!), it would cost an international student $169,992 for a four-year undergraduate degree at the University of Florida.
Getting an AA at a Community College Saves Money
If that student spent the first two years at Manatee Community College in Bradenton Florida, and then 2 years at the University of Florida, the student still graduates with a University of Florida degree, but saves over $20,000. There are many examples where the savings are even greater, but you get the idea.
US students have known this for years, and have been taking advantage of this system of community colleges. For US students, community colleges often also have the advantage of being close to home, so students can live at home and even continue to work, while paying the reduced tuition, making education even more affordable.
Switching Schools Can Make Things Harder
If there is a downside, its probably that completing your degree may be a little harder. I've never seen any statistics on it, but you must study hard, do well at community college, apply and be accepted to a new school after 2 years, then re-adjust and study hard to complete your degree there. This adds additional re-adjustment periods and transitions that the student who stays at one school for four years does not have to face. However, for highly directed and motivated students who will apply themselves and study hard wherever they are, it does offer a way to save a lot of money on your US higher education.
International students have started to figure the community college system out - community colleges are bursting with international students. For instance, Houston Community College has 8,468 international students, Santa Monica College has 3,974 international students, and there are over 40 2-year colleges in the US with 500 or more international students.
As enrollment of international students increase, these schools are also becoming increasingly adapt at and in tune to the needs of international students, making community colleges a realistic and much more affordable way to begin your international education.
Related Content: