Where to Study Culinary Arts?
---
Deciding where to study Culinary Arts can be a difficult decision as the United States offers many places to choose from with its own food identity. International students should consider where they would like to live, connections they'd like to build, and places that offer access to meaningful educational opportunities as they pursue their degree in culinary arts.
There are top Culinary Arts schools all over the United States from Maine to California and everywhere in-between. International students have the exciting opportunity to decide where to study culinary arts based on their personal interests and preferences. Knowing a little bit more about the climate, landscape, and cuisine can help you choose your location when comparing culinary schools across the US.
Culinary Arts Programs
Visit the Study in the USA School search to find schools that offer programs of study in Culinary Arts.
Featured Schools with Culinary Arts Programs
Featured Schools with Culinary Arts Programs
---
Northeast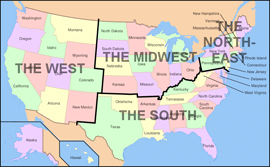 Maine, New Hampshire, Vermont, Massachusetts, Rhode Island, Connecticut, New York, Pennsylvania, and New Jersey are all located in the Northeastern region of the United States. This area is known for its rich history, diverse landscapes, and different climates. The first settlers that came to the U.S. landed in Massachusetts and some of the most important colonies were established in neighboring states. The Northeast is also home hundreds of top Culinary Arts schools and to the USA's largest metropolitan area, New York City, as well. In this region you can find different landscapes ranging from mountains, to coastal cliffs, to plateaus, beautiful valleys, and fertile farmlands. The climate varies from state to state but most experience hot, humid summers, and cold, snowy winters. Because there are so many different ethnic groups living in the Northeast there are many options when it comes to styles of food; Chinese, Indian, Italian, Polish, Thai, Lebanese, Filipino, etc. There are also some American classics such as the Philly Cheesesteak. The cheesesteak was created in Philadelphia, Pennsylvania and consists of fizzled meat, onions, peppers, and cheese on a roll of bread. As time passed variations of the sandwich were created but the concept has remained the same. It is an all time favorite and popular food of the Northeast as well as the rest of the states.
South
International students who are deciding where to study culinary arts and want a more temperate climate should look to the Southeast. Virginia, Texas, Oklahoma, North Carolina, South Carolina, Georgia, Alabama, Arkansas, Kentucky, Louisiana, Mississippi, Tennessee, Delaware, Maryland, West Virginia, and Florida all experience hot and humid summers but much milder winters than the Northeast. The South is also known for its love of food and home-style dishes; soul food for example is considered traditional African American southern food and consists of dishes such as fried okra and green tomatoes, collard greens, black eyed peas, and fried chicken. Southerners also adopted some of the Native American Indians' cuisine which has greatly influenced what is considered southern food today; grits, corn bread, johnny cakes, and hush puppies all derived from original Native American dishes. In addition to being known for its love of food, the south is also considered home to some of the friendliest people in the U.S.
Midwest
Illinois, Indiana, Iowa, Kansas, Michigan, Minnesota, Missouri, Nebraska, North Dakota, Ohio, South Dakota and Wisconsin make up what is called the Midwest. Most of these states have flat terrain with variations of rolling hills, lowlands, prairies, and plains. The region can also experience a variety of weather, but mainly the Midwest has hot summers and very cold winters. Agriculture is a huge part of the economy here, earning the region the nick name "Breadbasket of America." Some very interesting and fun cities are located in this region such as Cleveland, Ohio, and Chicago, Illinois. Many of these Midwestern cities' cuisines are influenced by the various immigrant groups that moved there. In Cleveland for example there has been a strong influence on food by polish immigrants; kielbasa, stuffed cabbage and pierogies along with corned beef and polish boy sandwiches are staples of the locals' diets. Chicago, known as the windy city, is considered an international hub and takes pride in its regional cuisine. The Italian influenced deep-dish pizza, the Chicago-style hot dog, and several other unique Chicagoan sandwiches are considered favorites by locals and visitors alike.
West
The West is home to a variety of different states; Montana, Wyoming, Colorado, New Mexico, Idaho, Utah, Arizona, Nevada, Washington, Oregon, California, Alaska and Hawaii are all located in the western region of the U.S. For many international students the West is a popular decision on where to study Culinary Arts. The west offers a variety of different climates, landscapes, and cultures. Generally, the region can be described as having a semi-arid climate and continental climate. This is because some states receive very large amounts of rain and snow while others are desert-like with only a few inches of rain a year. Wine has become very important to states in the west as more and more vineyards are established. Also, Rocky Mountain oysters and salmon are staples among locals' diets in the Northwest part of the region. Because of its proximity to Mexico, many of the Southwestern states are known for their fusion style cuisine referred to as New Mexican Cuisine, Sonoran, and Tex-Mex.
Conclusion
The US is a great place for international students to experience unique cultures, climates, and cuisine that differ from their own. You could choose to study in an area because you want to specialize in their style of cuisine, or because you prefer their climate, or maybe you want to live on the beach or in a big city. Whatever you prefer you're in luck because there are top Culinary Arts schools located in almost every state, you just need to decide what region you'd like to live in and narrow down your options.
---