---
USA State Guides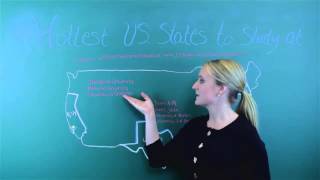 The United States is a complex and vast country made up of 50 states plus the city of Washington, D.C. - the nation's capital - all of which have a distinct regional identity. If you are an international student planning to come to the US to study, our USA State Guide can help you prepare for the adventure of a lifetime.
The United States has over 310 million people and offers international students a unique experience from buzzing, highly dense cities to unpopulated open spaces and pristine natural beauty. If you are curious about what your state has to offer, learn more about all 50 states in our USA State Guide. Here we've done the research for you so that you can learn about the state's economy, internship opportunities, climate, activities, and more!
Now that you know about all 50 states through our USA State Guides, check out our Study Guide by Subject where you can learn more about the different fields of study, top schools, internship opportunities, the US education system and more. Please also follow us on Facebook and Twitter if you want more regular international student updates!
Related Content: