---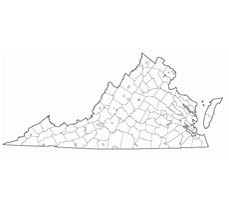 Capital - Richmond
Largest City - Virginia Beach
Population - 7,882,590
Timezone - Eastern Time
Study in Virginia
In Virginia during the 2010–2011 school year, there were more than 400,000 students enrolled in public institutions, both four-year and two-year public institutions, and more than 100,000 students enrolled in private institutions. International students in Virginia could join these steadily increasing enrollment numbers this year and in years to come for many reasons, including highly ranked colleges and Virginia's unique outdoor environment.
From Virginia Beach to Roanoke, Virginia offers a little bit of everything. International students in Virginia will find a college in a location infused with coastal charm and majestic mountains that fits their chosen lifestyle.
The College of William and Mary has its roots dug far into history. This public research university is located in Williamsburg, Virginia, and is the second oldest institution of higher education in the United States (the oldest being Harvard University ), after being granted a royal charter in 1693 by King William and Queen Mary. Sixteen signers of the declaration of independence and three United States presidents studied at The College of William and Mary.
The United State's first academic Greek society, Phi Beta Kappa, was also founded at William and Mary in 1776. Near campus is Colonial Williamsburg, which creates the Historical Triangle with Jamestown and Yorktown. Multiple museums, reenactments and the 23-mile scenic Colonial Parkway provide much to explore for international students who are interested in American history.
History not your cup of tea? Got your eyes on studying in a city? George Mason University in Fairfax is just minutes away from Washington, D.C. and offers 199 degree programs. As of 2018, about 3,498 international students study at George Mason University, representing at least 50 countries. Additional campuses are located in Arlington, Loudoun, and Prince William.
If you need additional funding to study in Virginia, explore financial resource options like scholarships and loans.
Learn More
James Madison University was ranked number three in the U.S. World and News Report's U.S. News College Compass Best Colleges 2011. Located in Harrisonburg in the Shenandoah Valley, James Madison University, a public institution, was originally a woman's college. The sports teams compete at the NCAA Division I level and their Greek system encompasses 20 fraternities and sororities.
James Madison University is also home to one quirky legend, The Kissing Rock. When the Quadrangle was being graded in the early 1920s for the construction of Alumnae Hall, a limestone rock was unearthed. Too enormous to remove without a hefty price tag, the stone was left. Female students were not allowed to be in the company of young men without a dorm mother and so the rock became a hideout to conceal a goodnight kiss. And so the legend was born that if you kiss your special someone on the rock, marriage will follow.
Students attending James Madison University will find a rich historical influence in the city of Harrisonburg and will find many outdoor activities to partake in, as it is located between the Appalachian Mountains and the Blue Ridge Mountains. Canoeing on the Shenandoah River, golfing at Heritage Oaks, and biking in the Shenandoah National Park and George Washington National Forest are among the assortment of outdoor activities available for students.
Not only does Virginia have mountains, its coastline on the Atlantic Ocean also offers a lot of fun in the sun.Virginia Beach has 35 miles of coastline consisting of the Chesapeake Bay, Resort Area and Sandbridge.A 28-foot wide, thee-mile long boardwalk provides a surface for bikers, roller bladers, runners and walkers to stroll along the beach at the Resort Area beaches. During the United State's "Gilded Age," the boardwalk attracted Victorian tourists and big bands.
Take a break from the ocean waves and explore the Chesapeake Bay. Old cypress trees and ancient lagoons are waiting to be seen. Visit the Cape Henry lighthouse, the first lighthouse authorized by the U.S. government, dating from 1792. Beach life and water activities provide a day or weekend vacation for international students who choose to study in Virginia.
For more information and to search schools to study in Virginia, and to contact them for free for further information, please visit the Study in the USA School Search.