The Decision Making Process
---
Decision Making Process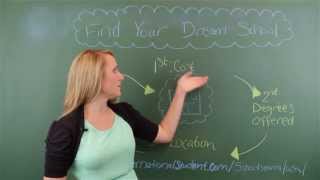 Studying in the United States is a serious and expensive undertaking. Consider carefully how your studies in the U.S. will fit into your long-term educational and professional aspirations, as well as your personal goals. Your experience as an international student will likely be a life-changing and fulfilling one, but you need to take many internal and external factors into consideration before you start packing your bags.
Use our definitive checklist below to make sure that you find the best fit for you:
What Are Your Goals?
What are your reasons for wanting to study abroad? You should think about not only the ways in which studying in the U.S. will enrich your multi-cultural and personal life, but also how it can enhance your educational and professional goals. Students pursue higher education, in their home country or abroad, because it will help them achieve any number of goals later in life. These goals may include professional advancements, a higher-paying job, or a broader range of cross-cultural knowledge, adaptability and experience.
As you define your educational and professional aspirations, here are some questions to consider:
Am I willing to spend this much time (at least a year or more) in higher education?
Will my U.S. credentials be recognized at home by institutions of higher education, professional licensing boards, and potential employers when I return?
Is the knowledge that I gain during my study in the United States readily transferable to situations in my home country?
Will the technological expertise I acquire in the United States be of use at home?
Is there a need for my chosen profession in my home country?
Would having an international educational base of knowledge and experience give me an edge over others working and/or competing for jobs in my field?
Will I earn enough in this profession to justify the investment?
Is the training and/or education that I am seeking in the U.S. available to me in my home country?
Will spending time abroad cause me to miss potential opportunities at home?
Are You Academically Prepared?
If you are applying for undergraduate study at a two- or four-year university in the United States, you must have completed at least twelve years of school and obtained the equivalent of a U.S. high school diploma. If you are considering graduate study at the master's or doctoral level, you will need an academic equivalent to a U.S. bachelor's degree.
No matter which level of education you are seeking in the U.S., you should know that the grades you received in your previous schooling carry a lot of weight with admissions counselors. Some U.S. universities are very competitive, selecting only students with excellent grades, high test scores, a variety of extracurricular activities and overall leadership skills. Many other schools are less selective, but almost all require some demonstration that you have succeeded in your previous schooling. Furthermore, your application should show the admissions staff that you have the potential to succeed at a more advanced level. Most graduate schools also require a minimum grade point average of 3.0 from your earlier studies.
Be realistic about your academic record and test scores. Apply to universities whose requirements match your academic background and interests. Be aware that graduate work in the United States involves a great deal of independent work and classroom discussion, forms of learning that may be different from your past learning environment.
U.S. colleges and universities place a great deal of emphasis on neat, organized and clearly written presentation. Almost nothing is accepted in handwriting; projects and term papers should be typed or produced on a computer. More and more research at campus libraries is conducted using computers to access on-line resources instead of books. Most universities will issue a personal e-mail account to students upon enrollment and expect them to use it for homework assignments. Take care that you are knowledgeable and prepared for this type of learning.
Accreditation
You will want to make sure that any U.S. institution that you are considering is accredited by an agency that is recognized by the U.S. Department of Education. Because the United States central government does not control the educational system, private, non-governmental agencies were created to review higher education institutions and their programs. If a school is accredited, you can be assured that the quality of their courses and programs, faculty, recruiting processes and admissions guidelines has met specific standards set forth by an accrediting agency.
What happens if a higher education institution is not accredited? First, it will be extremely difficult for you to receive financial aid through grants or loans if you need the money for a college or university program that has not been recognized as meeting certain standards for their practices.
Second, if you choose to pursue a graduate degree after completing undergraduate coursework through a program at an unaccredited school, your credits from that program will not likely be accepted as part of your graduate school application.
Finally, many employers check to see if a potential applicant has received a degree from an academic program with accreditation. A candidate without such a credential may well be overlooked for employment. It is well worth your time to take care that all programs you are considering have met the high standards set forth by an accrediting agency.
Quality and Other Educational Factors
Because of the size and the variety of higher educational institutions in the United States, the quality of any given institution and its programs, even when accredited, is hard to determine. The most expensive institution is not necessarily the best, nor is every program at a highly regarded university necessarily of the same high quality.
There is no official ranking of colleges and universities in the United States, though many general university guides will offer objective information on the difficulty in the admissions process (more competitive schools are more difficult to get into) and the quality of various schools' programs.
Some factors that can affect the quality of the education available, particularly to undergraduates, include:
Class size: Are all classes taught in a lecture format, with one professor lecturing the course information to a hundred or more students? Or are there smaller discussion seminars available to students? This is an important consideration for international students, for it can be difficult to get questions that you have answered if many of your courses are all lectures, with little to no opportunity for clarification and intensive study in a smaller group with a professor or teacher's assistant.

Opportunities for independent research and direct work with faculty: The available opportunities to do your own research and to work one-on-one with department faculty is an important consideration for both undergraduate and graduate students. Are there service learning opportunities and research programs? Is there an honors program for students who excel in their area of study? Is the technology at the school current, and will it allow you to do the necessary work you need to be successful as a student?

Educational background of the student body: How selective is the institution in admitting students for enrollment? Do they have 'open enrollment,' whereby most any student can join their program, or are they selective, competitive or highly competitive? Again, our Research Tools to Guide Your Search section will provide you with helpful resources that you can use to determine a school's selectivity.
What Will an Education in the U.S. Cost?
Studying in the U.S. can be an expensive undertaking. Tuition costs vary enormously from one institution to the next: a community college may have a yearly tuition of $2,000 (USD), while a highly selective private university may have yearly costs for tuition, room and board of $35,000 or more.
The biggest reason for this wide range of costs is because some colleges and universities in the United States are public schools, and some are private schools. What's the difference? In short, public institutions receive funding from the government (usually state government), whereas private schools get their money from student tuition, alumnae gifts, grants and endowments. Public schools are generally much less expensive than their private counterparts, with public school tuition costs coming in at an average of one-third the cost of private school tuition. No matter which school you attend, you can pretty well count on tuition being the largest single cost that you will face.
Sources of financial aid available to international students at the undergraduate level are limited and highly competitive. In some cases, financial assistance may be available through the institution. In other cases, you may be able to get aid through a private foundation, a private company, or your home government. Financial assistance may come in the form of scholarships, loans, grants or tuition reductions. Graduate students may find some teaching assistantships and/or research assistantships available to them.
Many American students receive some form of financial aid to help them pay for their higher education. As a result, many schools reserve financial aid funds for students who are already U.S. citizens, and simply do not have enough money left over to offer financial aid to international students. Competition may be fierce for the international student funding that some schools can offer, so you will want to do your research well in advance and be prepared. It is important for you to keep tuition rates and the availability or unavailability of financial assistance in mind when going through your school selection process.
You should also remember that tuition is not the only expense that you will incur while studying in the United States. Housing costs can also vary greatly, whether you are living in a dormitory with a number of other students or in an apartment either on or off-campus. You will also want to consider the cost of living in the surrounding area. The cost of living in some parts of the country (especially in large cities) can be much more expensive than in other areas. Even different cities within the same state may have a wide range in costs.
As you set your budget and make financial plans, be sure to plan for all your time spent in the U.S. for the entire program. An undergraduate degree in the United States takes an average of four to five years to complete. Master's programs may last one to three years. Doctoral programs may take anywhere from five to seven years, depending on your field of study and previous education. Non-degree or vocational programs last anywhere from several months to two years.
Be realistic if you plan to bring your family with you during your time in the United States. You will probably need an additional $5,000 per year to bring your spouse with you, and an extra $4,000 per year for each child. Health insurance is a necessity for living in the United States, and you should budget for these costs, as well. The cost of health insurance varies, but it generally ranges from $3,500 to $4,000 per year for a family.
Please visit International Student Loan and International Education Financial Aid for more information about funding your education abroad.
Do You Have Adequate English Skills?
It will be to your advantage to have a good command of written and spoken English from the very beginning of the application process. Most universities will require international undergraduate and graduate students to demonstrate their English language proficiency as part of the admissions process by asking incoming students to take the Test of English as a Foreign Language (TOEFL). In addition to a TOEFL requirement, some universities require applicants to submit at least one essay as part of their application; others may request an interview or teleconference to hear how well you express yourself in English. It is therefore important to learn the policies on English language testing and classes at the schools in which you are interested. You may find it helpful to meet with an English teacher in your home country to help you determine how your English skills will fare in the United States.
Conditional or provisional admission may be offered to you if your academic or professional qualifications are very good but your English needs additional improvement. If you are granted conditional admission, you may be required to complete English language courses or retake standardized language proficiency tests before being allowed to enroll in certain courses. You may have to satisfy this condition during your first or second term. Most U.S. colleges and universities offer English as a Second Language (ESL) classes in which you may be required to enroll upon beginning your study at a school. You will find that the International Student Office may be of great help to you in learning more about the ESL opportunities available.
If you are an international graduate student and are interested in applying for a graduate teaching or laboratory assistantship, you will need to pay particular attention to any special English language or other preparation programs that may be required for such assistantships.
Whatever the proficiency level of your English language skills, just remember to carefully examine the documents in your admissions packet to determine whether you will be required to enroll in ESL classes. The level of English proficiency required varies from school to school and from department to department, but the more prepared you are before you begin study, the more confident you will feel as a student in the United States.
For more information about ESL programs and English as a Second Language please see the ESL directory.
Access to Health Care
Many colleges and universities have student health centers that offer basic medical care at little or no cost to students. If you know that you have a specific medical condition and/or will require regular medical care, you will want to locate a university that has adequate student health services and is located near a comprehensive medical center.
Health care for major illnesses or accidents can be extremely expensive in the United States. The federal government does not guarantee universal health care to everyone, and those who do not have health insurance are expected to pay privately for all medical heath care services. It is therefore essential for you to have such insurance before you go.
The Americans with Disabilities Act (ADA) of 1990 protects the rights of all students, both U.S. and international, to participate fully in the programs and services of a college or university. Many campuses have offices with specially trained staff to provide support services for students with disabilities. If you have a disability, you will want to find out about the special facilities or resources available to you. If a university has other students with the same (or a related) disability, this may well indicate that the school can accommodate your special need.
Please see International Student Insurance for more information. International Student Insurance offers reasonably priced, comprehensive health insurance plans for international students that meet the requirements of most US schools. ISI also has information on selecting a health insurance plan, understanding health insurance terms and also a student health insurance blog.
Housing Options in the USA
Housing is an important consideration, as a variety of options are available when you start looking at where you will live when studying abroad. If you are single and are looking to immerse yourself in American collegiate life, living in a campus residence hall (also known as a dormitory) with an American roommate may be appealing to you. Dormitories also have resident advisors (usually one on each floor) that are available to assist students with everything from campus directions to helping new students find activities and organizations that match their interests.
If you are married and want your family to accompany you to the United States while you are studying, you will want to examine your options with care. You will find that some universities offer married student housing on campus, though it may be limited.
In many locations, students can find reasonably priced apartments or houses to rent. Also, you should be aware that some urban universities have little or no student housing.
Location and Climate Within the U.S.
If you have never visited the United States, you may be surprised to learn not only how large it is, but also how much variety exists between the different areas of the country. American colleges and universities exist in small towns surrounded by rural countryside, as well as in the middle of large cities where over a million people are living. Each campus has a different "feel" to it, and you will want to think about what sort of culture best suits you. Perhaps you are from a small town or have always lived in a rural area, and you are excited by the idea of living in a big city, surrounded by thousands of people. Or does the idea of being in a noisy, bustling city where you may need to learn how to navigate your way around using public transportation make you uncomfortable? These are important issues to consider.
Because the United States is such a large country, there is naturally quite a range of climates, as well. Many states have a full range of weather in the four seasons of one year, where temperatures may range from very cold with possible snow in the winter to hot, humid conditions in the summer. To give you an example, the The University of North Florida Coggin College of Business is situated just outside Jacksonville, Florida where the climate for 8 months of the year is very hot and humid, with temperatures around 30 degrees celsius. During the other months, it can actually drop down to freezing and can be a little chilly in comparison.
You may be more comfortable studying in an area whose climate matches that of your home country, or perhaps you are ready for a change. You can study at a school in the mountains or near a beach by the ocean. Detailed weather information about the weather conditions and average seasonal temperatures may be found through the resources at your educational advising center, or on the World Wide Web.
Obviously, it is ideal if you can visit various schools in the U.S. before making your decision, but that may well be impossible. Learn as much as you can from this website and other research to learn about the different parts of the country and what each location has to offer. Look at not only the different higher education institutions in the U.S., but also the various regions of the country to decide where you will find the most happiness and success as an international student.
Safety Issues
Personal safety is important to people everywhere, and your family may have concerns about you being safe while studying so far from home. Violence on a school campus can happen anywhere, and the United States is certainly no exception. The country and the world watched in horror when, on April 16, 2007, a horrific shooting took place on the campus of Virginia Tech University in which an undergraduate student killed thirty-two students and wounded many more before taking his own life. Though incidents such as this one are extremely rare, the tragedy resonated throughout the country. Campus security and crime prevention, which were already a high priority on most (if not all) campuses, ranks even higher on the priority list for college and university officials. Schools all have a specific university department in place to ensure that their schools remain a safe place to learn at all times. Notwithstanding the terror and sadness of that day in April, which will haunt Virginia Tech and all US higher education for years to come, campuses in the US are generally very safe places.
Common security measures may include any number of the following: emergency and security access telephones throughout campus that connect directly to campus and/or local police; campus entrances that are gated and locked at night, where only students with school identification are allowed access from security staff after hours; residence halls that remain locked at all times, with only students living there having access to the buildings; live-in residence hall directors to oversee each campus housing building; and a student escort service that provides safe, campus-wide assistance to students. Many international student orientations also provide information to new international students about the various ways that they can stay safe on campus.
It is customary for public institutions in the United States to make available statistics about the types and numbers of crimes that occur on their campuses. Even though it is unlikely that you would be a victim, crime can happen anywhere. So regardless of where you choose to study, you should learn about common safety and crime prevention strategies.
Social Activities
International students come to the U.S. to not only to broaden their education, but to gain cultural and social knowledge about this country, as well. You would do well to make the most out of your experience here, and social activities on campus are a great place to start. Most universities offer a wide array of clubs and organizations representing student interests. You will find cultural and religious associations, sports teams and athletic clubs, volunteer service organizations, academic societies, music and theater groups, international student organizations and many other opportunities for social activities. All of these activities are good opportunities to meet others and develop friendships. You should check with the university's international student office to learn more about the social and cultural offerings available at your school of choice.
Be aware that certain types of institutions may offer fewer social activities. For example, some schools that are located in large, urban areas (often called 'commuter campuses' because most students do not live on campus, but rather commute to campus for classes) tend to cater to part-time American students and do not concentrate on student social activities.
Practicing Your Religion
It may be very important to you to be a part of a religious community where you are studying in the United States. Muslim students, for example, might want to be sure that there is a mosque in their campus community. While some colleges and universities have a religious affiliation, many others do not, and you will often find a variety of religious organizations and places of worship available to you. The university international student office should be able to provide you with the necessary information you might need for your particular need.
Are You Prepared to Live in Another Country and Culture?
Living in the United States for an extended period of time while pursuing your educational goals is much different from visiting the country for a few weeks or months as a tourist. Give some thought to how living in a new environment and a new culture will change you, and the additional changes that you may need to make upon your return home. Consider whether you have the skills to live independently in a new culture, perhaps without the comforts of certain foods or products that you cannot get in this country. You will likely be separated from friends and family for a long period of time. If you do bring your family with you, be sure to consider their adjustments, as well.
Resourcefulness, creativity and realistic planning are all key factors in determining whether you will succeed in your plan to study in the United States. Once you have considered all of these factors, start researching US schools with the InternationalStudent.com School Search.
Related Content: