---
USA Education System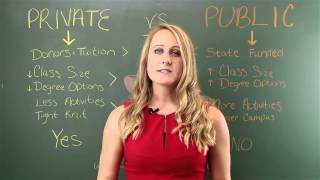 Studying in the United States has many advantages, but before you pick which program best meets your needs, you will first want to learn about the U.S. education system. There is a wide range of choices and opportunities, and you should have all of the information you need to make a decision that is right for you.
Role of U.S. Government in Education
Unlike in many other countries, the United States central government does not control the educational system. Rather, the higher education systems are either: 1) controlled by independent groups of people, or trustees (in the case of private schools); or 2) shared between local and state governments (in the case of public schools). A major difference between these two types of schools is the cost. Private schools are generally much more expensive to attend than their public school counterparts, mainly because the private schools must rely on sources outside of the government for their funding. Please see What Will an Education in the US Cost? for more information on the costs of public vs. private schools.
Additionally, the U.S. Department of Education reviews and recognizes "accrediting agencies" that in turn ensure the quality of the school and their programs. Most colleges and universities have what is called "regional accreditation" from an agency that oversees that particular part of the country where the school is located. You will want to make sure that the school you choose has accreditation, meaning that it has met specific academic, administrative and financial standards. Accreditation also ensures that your degree will be recognized by other educational institutions and employers.
Certain fields of study will also have "program accreditation" in addition to regional accreditation. For example, the Accrediting Board of Engineering and Technology accredits engineering programs. Your overseas educational adviser can help you find out if program accreditation exists in your field of study.
What Are My Options to Earn a Degree?
Education is mandatory in the United States until the age of 16, and the majority of students do finish high school. After completing 12 years of primary and secondary school, students often begin post-secondary learning, or higher education. The first level of higher education is undergraduate study; beyond an undergraduate degree a student may choose to receive a graduate education, also known as postgraduate work. Traditionally these programs are undertaken on campus, however there is a growing number of accredited online college degrees that are appearing for students from all around the world. They can offer some fantastic benefits to international students.
If you are debating the two-year degree option versus a four-year undergraduate course of study, you will want to think carefully about your goals. Some employers prefer candidates who have studied a full four years, particularly in competitive fields where there may be many students vying for jobs. Other professional fields may have a need for employees with only two years of study under their belts. You need to do your research to make an informed choice.
Additionally, some other non-degree options exist outside of the traditional university setting which students should explore as another option.
Applying to Schools
Although admission policies vary from one school to the next, most determine admission based on several common criteria, including a student's high school course of study, high school Grade Point Average (GPA), participation in extracurricular activities, SAT or ACT exam scores, a written essay, and possibly a personal interview.
When looking at a potential student's high school records, the university admissions office will consider whether the student has taken courses in high school that will prepare them for more difficult coursework. The admissions office will also consider the student's GPA. A GPA is a quantitative figure averaging a student's accumulated grades.
University admissions officers also like to see applications from students who have taken part in extracurricular activities, such as theatre or art clubs, scholastic clubs, or athletic teams. Participation in these kinds of activities demonstrate that the student has learned valuable skills such as teamwork and leadership.
Most high school students in the US take either the (SAT Reasoning Test) or the (ACT) during their final year of high school. These are standardized quantitative exams. Each school sets a minimum SAT or ACT score that a student must achieve in order to gain admission.
Universities will often require that applicants write an essay as part of their application. Each admissions office determines the length and content of the essay. For tips on writing an admissions essay, check out our Essay Writing Center. The applicant may also be required to have a personal interview with a representative from the admissions office.
Check out our Application Process section for more information.
Undergraduate Study
University students who are pursuing a Bachelor's degree are called "undergraduates." Most universities offer undergraduate students a liberal education, which means students are required to take courses across several disciplines before choosing one major field of study in which to specialize. Undergraduate students will often ask each other, "What is your major?" meaning, "What is your major field of study?"
Courses at most universities are only one semester long. Each course is assigned a number of credit hours, generally based on how much time is spent in class. Most courses are three credits, but some might be one, two, four, or five credits. All degree programs require that their students completely a minimum number of credits before they are eligible for graduation. Most Bachelor's degree programs do not require students to write a final thesis.
Graduate Study
Students who are pursuing a Master's or Doctoral degree are called "graduate students." Graduate and professional programs are specialized, meaning students have one field of study from the beginning.
Students continue to take courses at the graduate level, and a final thesis is required for most programs. Doctoral students take courses until they have earned enough credit hours to attend their qualifying exams, which are usually taken over several days and often include both a written and oral component. After doctoral students pass their qualifying exams, they are advanced to candidacy and can begin writing their dissertation. Before the degree is given, the candidate's completed dissertation must be orally defended before the candidate's faculty committee.
Related Content: