---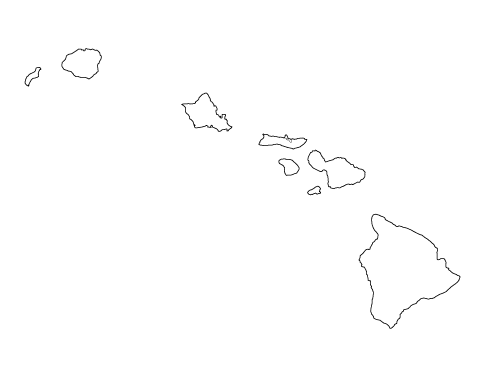 Capital - Honolulu
Largest City - Honolulu
Population - 1,295,178
Timezone - Hawaiin Time
Study in Hawaii
International students in Hawaii have at their doorsteps one of the most unique study abroad opportunities the United States has to offer! The local plants and animals (many of which are found nowhere else on the planet), as well as the surrounding oceans and fisheries, provide for exceptional research opportunities, while serving as a haven for various outdoor recreational activities (amongst the breathtaking sights of this tropical paradise). From mountains and cliffs to rich forests and beautiful beaches, international students in Hawaii will experience a diverse range of ecosystems, as well as the academic and professional opportunities that abound in such a thriving location.
International students involved in the natural sciences, or those who love ocean life that are thinking to study in Hawaii, are sure to be impressed with the world's largest marine wildlife reserve, located just off the coast (Papahanaumokuakea Marine National Monument), as well as the variety of endangered species that call the islands and their surrounding waters home. Perhaps, such beautiful and pristine surroundings, coupled with the slower-paced Hawaii lifestyle, contribute to the fact that Hawaii boasts the longest average human lifespan of any U.S. state: 79.8 years--77.1 for men, 82.5 for women!
If you need additional funding to study in Hawaii, explore financial resource options like scholarships and loans.
Learn More
The biological diversity of Hawaii is combined with a rich cultural diversity, a noteworthy point for international students making the decision to study in Hawaii. Hawaiians place much emphasis on preserving native Hawaiian culture, as well as representing the many cultures now thriving on the islands. According to the US Census Bureau, the state has the highest concentration of mixed-race individuals and is one of two "majority-minority states" (where non-Hispanic whites do not form a majority). Asian Americans make up the largest demographic in Hawaii, and the cultural influence can be seen from the architecture to the cuisine. The embraced and ever-present diversity of life on the islands is sure to go a long way in offering international students in Hawaii a comfortable and accepting space within which to make the most of their study abroad experience. There are also groups dedicated to creating a community of international students in Hawaii dedicated to providing a medium of communication through discussion forums (and other forms of assistance) for international students transitioning from overseas to study in Hawaii.
International students in Hawaii will have many opportunities to offset the cost of living and do a little saving. Not to mention, a good deal of universities in Hawaii are proactively seeking to increase the number of international students who enroll to study in Hawaii by offering many scholarship, internship, and other financial aid opportunities (in order to accomplish that goal). Financial aid options (while always competitive to secure) are certainly worth researching for students considering to study in Hawaii, as the state has the highest average cost of living in the United States. Most colleges and universities in Hawaii have many options for international students to either absorb or offset the cost of living, and most can be accessed directly from the institutions' websites.
For more information and to search schools to study in Hawaii, and to contact them for free for further information, please visit the Study in the USA School Search.
Related Content: