---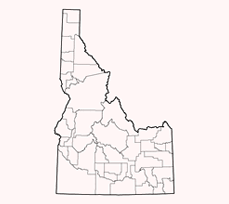 Capital - Boise
Largest City - Boise
Population - 1,545,801
Timezone - Mountain Time
Study in Idaho
International students will find the Northwest adventurous, safe, and an experience of a lifetime. With just 1,567,582 people in 82,747 square miles of pristine forests and streams, Idaho is a land of beautiful wilderness. International students in Idaho will find adventure with 13 national forests to explore, three of which are located in Idaho's panhandle. Hiking trails are everywhere, offering adventurers the option to travel on foot or on "off-highway vehicles." Students will find themselves within a community of off-highway vehicles (also referred to as OHVs) where more than 137,000 OHVs are registered in Idaho.
Camping is another popular activity for students who study in Idaho. International students can use traditional tents, cabins, or in a "yurt." A "yurt" is a circular, Mongolian-style domed tent 20 feet in diameter with a plywood floor, hardwood lattice sidewalls and a clear Plexiglas skylight. This fully insulated shelter is designed to withstand high winds, snow loads and summer heat, according to Idaho's parks and recreation site.
International students who recognize that Idaho is landlocked will still be able to spend some time in the water. Idaho has more than 3,000 miles of inland water, suitable for whitewater rafting. The rafting season is April to November, perfect for a back-to-school, over-the-summer or end-of-the-year trip. If students prefer a slower rhythm of exploration, there are other river sports, including canoeing, boating, kayaking, and fishing.
Within these waters, it is no surprise that the natural habitat is thriving. Idaho is the number one national producer of trout. The cutthroat trout is Idaho's state fish. More than 93,000 miles of rivers and streams snake through the state, with 420,000 anglers fishing them annually.
On land, Idaho is famous for their potatoes, and rightly so, as they are the top national producer. With agriculture being one of Idaho's top industries, the state even has an agency called the Idaho Potato Commission. Outside of potatoes, Idaho is also the most prolific producer of lentils and Austrian winter peas.
Other major industries in Idaho include manufacturing, health care, tourism, food processing and timber. Mining is the seventh major industry in Idaho. In fact, Idaho is known as "The Gem State" because the state has mountains littered with veins of gold, silver, copper and other minerals.
With so many activities outside the classroom, students can easily get caught up in all there is to do! However, international students in Idaho can choose from a variety of higher learning institutions.
If you need additional funding to study in Idaho, explore financial resource options like scholarships and loans.
Learn More
There are a number state colleges and universities in Idaho, including the following:
State Colleges
The College of Western Idaho
North Idaho College
State Universities
Boise is home to Idaho's largest state university, Boise State University. Boise, Idaho's capital and largest city, gives students access to a metropolitan area, as well as many activities to do on or off campus. On campus, sports are a large part of the BSU's student life. The Broncos are part of the NCAA Division I athletics and play in a stadium that seats approximately 33,000 fans. The stadium also has blue astro turf, making it the first non-green playing field in American football.
Idaho State University is in the third most-populated town, Pocatello. Idaho State University has a student body numbering more than 15,000, but it still maintains a small class size and more than 200 programs of study.
The University of Idaho is the oldest university in Idaho. The University of Idaho offers the first-in-the-nation doctorate degree in athletic training and has the only law school in Idaho which enrolls only around 300 students, guaranteeing personal attention.
Outside the classroom, students will enjoy a safe environment, since the crime rate is the lowest in the West. In fact, the rate of serious crimes is 21.3 percent less than the national average.
Despite an overwhelming majority of whites living in Idaho, Idaho does have many cultural communities. The "Basque Block" in Boise is located on Grove Street. A tight-knit community of Basques from the Bizkaia province in Spain, they keep their culture alive with festivals and historic buildings.
Many Native American tribes also call Idaho home including the Coeur d'Alene Tribe, Kootenia Tribe, Lemhi-Shoshone Tribe, Nez Perce Tribe, Shoshone-Bannock Tribe, and the Shoshone-Paiute Tribe.
International students will find themselves engaged in the classroom with plenty of outdoor and cultural activities to become involved in to get the full Idaho experience.
For more information and to search schools to study in Idaho, and to contact them for free for further information, please visit the Study in the USA School Search.
Related Content: