---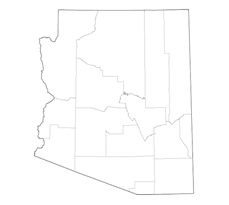 Capital - Phoenix
Largest City - Phoenix
Population - 6,392,017
Timezone - Mountain (most of the state)
Study in Arizona
Each year, Arizona ranks as one of the top states in the United States to host international students. In fact, Arizona State University in Tempe, AZ, ranks as the 19th most populous universities in the country for international students, with an enrollment number of 4, 483 individuals in 2010.
In descending order, this university is then followed by the in Tucson, Northern Arizona University in Flagstaff, Mesa Community College in Mesa, and Scottsdale Community College in Scottsdale, according to the 2010 Open Doors report.
As one of the four corner states of the U.S., Arizona is bordered by New Mexico, Utah, Arizona and a small area of Colorado, and it also shares an international border with the states of Sonora and Baja California in Mexico. Ranked as the 6th largest state in the U.S., Arizona is also the 16th most populous state in the U.S., with more than 6 million inhabitants. In having one of the largest economies in the United States, and in the world for that matter, copper is extensively mined in the state and accounts for two-thirds of the nation's output. At one point in history, Arizona's economy relied on the "five C's," which consists of copper, cotton, cattle, citrus and climate, and the state also used to be the largest producer of cotton in the country. Trade, transportation and utilities constitute the majority of the work force for residents of Arizona today, and for international students, this can lead to studies and internships in manufacturing, computer and electronic equipment, transportation equipment, such as helicopters and space vehicles, and other products, such as fabricated metal products, food products and machinery.
Additionally, as an urban, tourist-based city, community, business and personal services, including private health care, hotels and resorts, law firms and repair shops, generate more revenue than any other service sector, and Arizona's hotels and resorts receive significant business from tourism during the winter. These fields constitute the second and third majority of workers in Arizona, according to 2010 U.S. Census Bureau data.
If you need additional funding to study in Arizona, explore financial resource options like scholarships and loans.
Learn More
With a primarily dry climate, international students can expect to experience large temperature swings occurring between day and night in less-developed areas of Arizona's desert region; urban region temperatures result in higher nighttime temperature lows with the effects of local warming, which is caused by modification of the land surface by urban development and uses materials that effectively retain heat. Most of the public universities in Arizona exist in urban cities though, except for Northern Arizona University, where the main campus in Flagstaff is surrounded by the largest contiguous ponderosa pine forest on the North American continent and sits at the base of the San Francisco Peaks, the highest mountain range in the state.
The city of Flagstaff also has a significant tourism sector due to its proximity to numerous tourist attractions, including the world-famous Grand Canyon National Park, considered to be one of the Seven Natural Wonders of the World, Sedona, a city known for its stunning array of red stone formations, known as the Red Rocks of Sedona, and Oak Creek Canyons, a river gorge that is the second most popular tourist location in Arizona, second to the Grand Canyon. At the Grand Canyon, international students can experience guided tours, ranger programs, camping, hiking, mule trips, river trips, and other activities. In addition to its natural attractions, Arizona has a budding music and art scene. The Phoenix Art Museum is the Southwest's largest collection of visual art forms across the world, and the Heard Museum in Phoenix is a recognized center of Native American art; for a fun fact, Arizona has the largest percentage of land designated as Native American Tribal land in the United States, according to ArizonaGuide.com.
Colleges in Arizona have a wide variety of highly ranked programs for international students to get involved in, including architectural design, information systems, business, earth science, criminology and criminal justice, journalism and mass communications, with Arizona State University consistently ranked in the annual Top Ten Hearst Intercollegiate Journalism Competition, often called the "Pulitzers of college journalism," and others. In addition to the three main public universities, students who study in Arizona students can also expect to find a number of private and community colleges throughout the state, including colleges dedicated to global management, art and design, aeronautics, naturopathic medicine, and law.
Whether traveling to the forested region of Flagstaff, the metropolitan city of Tucson or the state's capital of Phoenix, there is a unique experience to offer to all international students in Arizona, whether they've visited the U.S. before or are traveling to the country for the first time. For more information and to search schools in Arizona, and to contact them for free for further information, please visit the Study in the USA School Search.
For more information and to search schools to study in Arizona, and to contact them for free for further information, please visit the Study in the USA School Search.
Related Content: