---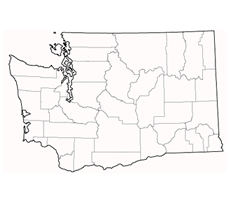 Capital - Olympia
Largest City - Seattle
Population - 6,664,195
Timezone - Pacific Time
Study in Washington
For international students who study in Washington, there are many universities to choose from. There are six state universities, including the University of Washington, which is 42nd on the list of America's best universities according to the U.S. News rankings. In addition, there are more than two dozen private institutions in the state, so there is a great fit for everyone. Whether you choose to study at a public or private institution, there is a wide range of majors and activities to choose from at each and every university.
Washington lies on the northern border of the United States, with British Columbia, Canada to the North, and Oregon to the South. It is also directly on the Pacific Ocean, which plays a large role in the region's climate. The westernmost parts of the state can get up to 500 cm of rain throughout the year. The city of Seattle is infamous for its rainy weather, so international students in Washington should be prepared and bring an umbrella! However, the eastern part of the state gets fairly low levels of precipitation. The average annual temperature ranges from 4 degrees Celsius to 11 degrees Celsius, but the Western side of the state can experience Arctic temperatures in the winter and heat waves in the summer. This should be taken into consideration when packing for your studies.
The universities in Washington benefit from the local economy, which includes industries such as aircraft manufacturing, computer software development, telecommunications, biotechnology, and tourism. The coffee giant Starbucks is also based in the state, as well as Microsoft, Costco, and Nordstrom, all of which were on the list of most admired companies that was complied by Fortune magazine. Washington is also a big agricultural state, and has been the leading apple producer in America since the 1920s. If you want to eat some delicious apples, Washington just might be the state for you! In addition, many products that are imported from Asia pass through Washington's Pudget Sound port, given its West coast location. International students in Washington who are interested in clean technology and entrepreneurship will find plenty of opportunity for study or internships, since this is a booming part of the state's economy.
If you need additional funding to study in Washington, explore financial resource options like scholarships and loans.
Learn More
For sports fanatics, studying in Washington offers plenty of opportunity to catch a game. Whether you prefer football, basketball, soccer, rugby, baseball, or ice hockey, there is a chance to see it in Washington. If you're not into professional sports, there are numerous club and varsity level teams at Washington's many universities, as well as intramural clubs. So whether you want to get into the action on the field or cheer from the sidelines, you can do so while studying in Washington.
Washington has earned the nickname "Evergreen" and for good reason. Nature abounds in the state, and you'll find a variety of terrain, including mountains, lakes, and expansive scenic landscapes. The mountains offer a wide range of activities from hiking and camping to skiing and horseback riding. If you're feeling particularly adventurous, you can even go see Mount St. Helens, the still-steaming volcano that erupted in 1980. Not quite up for that much adventure? Washington has plenty of beautiful parks such as the Olympic National Park, Mount Rainier National Park, and North Cascades National Park. There are around 120 national parks in the state, so no matter where you study, you won't be far from one.
So whether you want to watch a professional football game, learn how to start your own business, or climb a volcano, studying in Washington gives you the opportunity to do so.
For more information and to search schools to study in Washington, and to contact them for free for further information, please visit the Study in the USA School Search.