---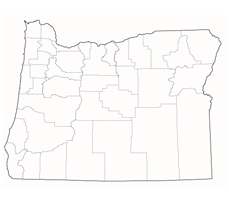 Capital - Salem
Largest City - Portland
Population - 3,825,657
Timezone - Pacific Time
Study in Oregon
Thousands of students from across the United States and the world choose to study in Oregon. With its rolling mountains and abundant forests, Oregon is most known for its diverse, beautiful landscapes. International students can find everything they're looking for in Oregon: nature, adventure and, of course, a great education.
Oregon's scenery varies from rain forests and waterfalls on the coast and volcanoes and highlands in the center to bare deserts in the east. The "Beaver State" boasts four of the most prominent mountain peaks in the U.S., and Mount Hood, the world's second-most-climbed mountain. In addition, Crater Lake in Crater Lake National Park is the deepest lake in the country. Needless to say, there are countless ways to surround oneself in Oregon's stunning scenery. You can hike, fish, ski, camp, bike, kayak, and so much more. Oregonians take pride in their adventurous state.
If you're looking for that big-city lifestyle in Oregon, Portland could be the perfect place for you. The bustling city of Portland has been referred to as one of the most environmentally friendly cities in the world. Whether you're trying a beer from a microbrewery, listening to an indie music band play, or simply reading a book in one of the city's several charming coffee shops, you won't find yourself without something new to do in Portland. With Portland's rich, vibrant culture, it's no wonder why many non-Oregon residents and international students want to study here in this state.
As the ninth-largest state, Oregon is home to more than fifty colleges and universities, including seven public universities. These institutions offer a variety of undergraduate and graduate programs for international students. Prospective students can choose a large city, such as Portland, or smaller communities throughout the entire state. The "green" city is home to large universities such as Portland State University, and many small private universities, like Reed College. Over the past couple years, Oregon has become a popular place of study for international students. Oregon State University (OSU), hosts more than 1,300 international students every year. Popular undergraduate majors include business, journalism and political science. Many students also choose Oregon for its environmental studies and fine art programs.
If you need additional funding to study in Oregon, explore financial resource options like scholarships and loans.
Learn More
Oregon's ample natural resources have been the basis of the state's economy. Bountiful forests and fertile land make lumber and agriculture the leading industries in the state. Today adventure-seekers and nature-lovers are drawn to the environmentally friendly state, making tourism the state's third-largest source of revenue. Also, wine production has been a significant industry in the state. Oregon's wine country is celebrated throughout the U.S., famous for producing savory chardonnays and pinot noirs. During the past few decades, Oregon has placed more emphasis on manufacturing, marketing, and high technology. Oregon is home to the world headquarters of Nike, Inc., and a number of other large corporations.
International students looking to study in Oregon and make their home away from home should note that their lifestyle will greatly depend on where they choose to study. Most large public universities offer student housing, however students can choose to live off-campus. While the cost of living in Oregon is slightly higher than the national average, there are a variety of ways to get financial aid and scholarships. It may be hard to get around by foot in Oregon's smaller cities, however the city of Portland is bike and pedestrian friendly, and offers convenient public transportation. Also, you can take the Aerial Tram and fly in the sky to get from point a to point b.
Whether you're looking to quench your thirst for adventure in Oregon's rivers and hills, or experience the vibrant art and culture scene, there's always something to do in Oregon.
For more information and to search schools to study in Oregon, and to contact them for free for further information, please visit the Study in the USA School Search.