---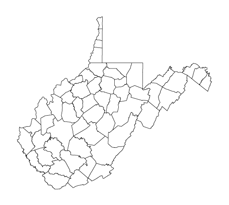 Capital - Charleston
Largest City - Charleston
Population - 1,819,777
Timezone - Eastern Time
Study in West Virginia
International students from all over the world find themselves considering their options to study in West Virginia, year after year. Not only is the quality of education top notch with affordable fees, the state of the Appalachians is also one of the most picturesque states, bordered by Virginia  to the southeast, Kentucky to the southwest, Ohio to the northwest, Pennsylvania to the northeast and Maryland to the east. Charleston is the capital of West Virginia and also its largest city.
West Virginia is immensely rich in its history. Early explorers, civil war, colonial life, logging, coal mining and the railroads, all helped shape the culture of The Mountain State, making it a place bursting with zest for music, food, art and life itself. There is much awaiting those who decide to study in West Virginia.
In 2010, Forbes® ranked Morgantown as the 10th best small city in the USA to conduct business, which goes to show the prosperity of the city. Morgantown is a strong prospect for international students in West Virginia. West Virginia University is also located in this city. It is ranked as the 95th best public school as per the U.S. News and World Report, 2011.
Globally, West Virginia has an economy that would nominally be the 62nd largest economy as per the 2009 World Bank projections. With a GDP of $63.34 billion in 2009 (according to the November 2010 report of The Bureau of Economic Analysis), the real GDP growth was the 7th best in the country with a 7% increase, it was also only one of ten states which grew economically that year. West Virginia also had an unemployment rate of 9.3% in January 2010, which dropped down to 8.5% by October, 2010. West Virginia also saw an increase in per capita income in 2009, by 1.8%, while it dropped 2.6% nationally. Such an increase in per capita income has been attributed largely to exports, which topped $3 billion.
Education, Health Services, Mining, Logging, Business, Trade & Utilities, and Engineering & Mineral Resources have not only been factors behind this increase in per capita income, but have also been popular majors with students who study in West Virginia. Some other popular majors with international students in West Virginia are: Accounting, Medicine, Advertising & Graphic Design, Athletic Training, Biology, Economics, Agriculture, Law, Computer Science, Recreation & Tourism Management, Social Work, Social Sciences and Teacher Education.
If you need additional funding to study in West Virginia, explore financial resource options like scholarships and loans.
Learn More
Competent colleges are scattered all over West Virginia. West Virginia has also been named one of the safest states to study in. It is an impeccable blend of quality, affordability, safety and work-life balance. A few of the top colleges include:
With diverse terrain, climate and incomparable natural beauty, international students in West Virginia never fall short of outdoor activities. There are several National Parks, State parks and forests which provide campsites. There are park rangers stationed at several parks who will gladly help visitors with information to make their trip more memorable. There is also, virtually, no better place for outdoor activities such as nature study, skiing, fishing, biking, hunting, hiking and swimming. A large number of tourists and students alike flock to West Virginia every year for its highly praised white water rafting. West Virginia is also home to innumerable festivals and fairs. There's a melody at every corner, a winery at every bend and a Museum in every nook, which combine to enhance the Mountain State.
Several Metropolitan cities are also located a few hours away from West Virginia, such as New York and Washington D.C. However, with so much to do in one state, the chances are, students would never want to leave!
For more information and to search schools to study in West Virginia, and to contact them for free for further information, please visit the Study in the USA School Search.