Study in Washington, District of Columbia
---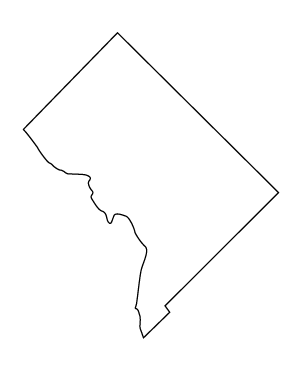 Capital - N/A
Largest City - Washington, D.C.
Population - 601,723
Timezone - Eastern Time
Study in Washington, District of Columbia
The United States Constitution provided specifications for a district to be distinguished and preserved as the national capital of the United States. As such, Washington, D.C. was founded in 1790 and (instead of being part of any of the 50 U.S. states) operates independently and is overseen directly by the American federal government. The centers of all three main branches of the United States government (legislative, executive, and judicial) are located in the nation's capital, along with 174 foreign embassies and the central headquarters for the World Bank, International Monetary Fund (IMF) , and Pan American Health Organization (PAHO).
International students interested in studying in Washington, D.C. have (in addition to amazing opportunities for intimate exposure to the American political scene and system) numerous top-ranked private universities and programs from which they may choose to pursue their education abroad. Among them are included American University - International Accelerator , Corcoran School of the Arts and Design, George Washington University, Catholic University of America , Howard University, Gallaudet University, Georgetown University, Trinity Washington University, Columbus School of Law, Washington College of Law, Institute of World Politics, and the Paul H. Nitze School of Advanced International Studies (provided through the reputable Johns Hopkins University). Universities in D.C. also often have career development programs to help ease students into the workforce. For example, American University - International Accelerator 's Office of Career Development provides students with necessary resources and career connections for life after college and boasts a 99% satisfaction rate when it comes to student satisfaction with career advising. International students in D.C. will find themselves at a national center for health and medical research. In fact, there are over a dozen medical research facilities and hospitals located in the district alone. Some of the most notable medical centers in the area include the National Institute of Health, the Washington Hospital Center, the Walter Reed Army Medical Center, and the Children's National Medical Center (one of the highest ranked pediatric centers in the country). The George Washington University, Howard University, and Georgetown University all have very reputable medical programs with associated teaching hospitals located in the area as well.
While the city of Washington D.C. proudly displays many national and architectural symbols of American democracy, it also provides international students with a sobering case study in socio-economic inequality issues within the U.S. system. International students interested in studying in D.C. may find it worth their time to research the economic disparities and challenges faced by its residents (from issues ranging from traffic congestion to education inequality) due to its unique political status and infrastructure. On the other hand, international students in D.C. should appreciate its diverse cultural demography and positive attitude towards foreign exchange advocacy and social interaction, as demonstrated by its sister-city agreements with several international cities, including Bangkok (Thailand), Dakar (Senegal), Beijing (China), Brussels (Belgium), Athens (Greece), Paris (France), Pretoria (South Africa), Sunderland (United Kingdom), Seoul (South Korea) and Accra (Ghana). International students in D.C. can also look forward to enjoying all four seasons and reasonable year-around climate, living in a city whose landscape is 20% dominated by beautiful parks and scenery, and exploring America's national capital with its obvious richness of historic sites, museums, cultural landmarks, and performing arts' venues.
If you need additional funding to study in Washington, District of Columbia, explore financial resource options like scholarships and loans.
Learn More
Study English as a Second Language in Washington DC
For students with goals of studying English as a Second Language (ESL), Washington DC is an ideal location to do so. With a very multicultural society and people of many unique backgrounds living in the area, it is a great place to learn and practice English on a regular basis. Just a ten minutes' walk from the imposing spire of the Washington Monument and its tranquil Reflecting Pool, and just six blocks from the White House is the Kaplan International English School where students can study English as a Second Language in a classroom setting that includes flexible schedules, exam preparation, and long-term English Intensive courses. This Kaplan program will make the ease of transitioning to a new country and busy city simpler for any international student.
For more information and to search schools to study in Washington, D.C., and to contact them for free for further information, please visit the Study in the USA School Search.