---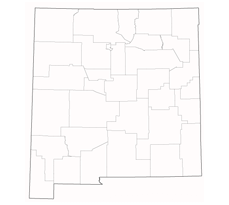 Capital - Santa Fe
Largest City - Albuquerque
Population - 2,009,671
Timezone - Mountain Time
Study in New Mexico
New Mexico's uniquely diverse population offers exciting opportunities and experiences for incoming residents. With a foreign born population of 8.2%, and an almost bilingual populace where 36.5% of the people speak a language other than English at home, international students studying in New Mexico is far from a challenge, and the place is no stranger to outside cultures and different walks of life.
Bordering the states of Colorado, Arizona, and Utah at the Four Corners, along with Oklahoma, Texas, and the country of Mexico, New Mexico is a travel hub of the entirety of the American Southwest. With everything from arid deserts, high mesas, the Rio Grande River, and the snowy forested Rocky Mountain peaks, New Mexico has plenty to offer.
The state's economy is bolstered by the powerful industries of petroleum and gas production, federal government projects, and the tourism & service sector. New Mexico has extensive reserves of fossil fuel and many geographic advantages for renewable energy resources, allowing for many interesting areas of field study for students interested in Environmental Sciences, Earth Science & Geology, and Chemistry and related sciences. Federal government spending has ties to military operations, with the state being home to a number of air force bases and other designated military properties. The US Government employs more than 25% of the population.
International students interested in tourism , hospitality, and business will be glad to know that the New Mexican tourism industry is pioneering into realms of new technology, and there exists a lot of potential for growth and opportunity. New Mexico is a popular retirement destination, and some companies are even looking into the exciting possibility of space tourism. The University of New Mexico's School of Medicine ranks in the top 50 primary care-oriented medical schools in America. In addition to this, growing regional interest in environmentally friendly services, alternative medicines, and therapy can be profitable areas of study and business for future residents.
If you need additional funding to study in New Mexico, explore financial resource options like scholarships and loans.
Learn More
Those with a knack for creative expression or an eye for art will blossom in Santa Fe, New Mexico's capital, as it is an oasis of inspiration. Famed artist Georgia O'Keeffe found solace in the New Mexican deserts, where she painted canvases to capture brilliant elements of desert life. With its famous Canyon Road, a haven for galleries and art collectors, the city is second only to New York City in being the largest art center in the United States.
Albuquerque, by far the largest city in New Mexico and the sixth fastest-growing in the nation, has a metropolitan population of over 887,000. The city is in the center of the New Mexico Technology Corridor and is a major hub of high-tech corporation activity and government institutions. This means many opportunities for people interested in developing new technology and working with some of the biggest names in the industry. In 2006, Forbes Magazine ranked the desert metropolis as the best city for business.
Also in Albuquerque is the location of the University of New Mexico, the largest flagship university in the state. Places of higher education like Eastern New Mexico University boasts an international student population from over 20 different countries such as China, Canada, Germany, India, Mexico, and more. Financing one's study in New Mexico has never been easier, with institutions like the University of New Mexico making special designated International Student scholarships available to all students from abroad that apply and are admitted within the designated deadline. In addition to this resource, the state government is actively making efforts to bring in more students from the outside with programs like the Competitive Scholarship, which give aid for up to 4 years in any public university within state borders. Along with these financial opportunities, universities in the state offer things like ENMU's International Student Affairs Office or the wide range of student-run cultural clubs and organizations at UNM such as Afghan Student Association, Chinese Student Friendship Association, Israeli Alliance, and more.
New Mexico's opportunities for personal growth are boundless. Whether it's intensive study in fields like medicine, science, and technology, adventurously exploring the great outdoors, or finding one's artistic muse under the desert sun, New Mexico can be a great environment.
For more information and to search schools to study in New Mexico, and to contact them for free for further information, please visit the Study in the USA School Search.
Related Content: