---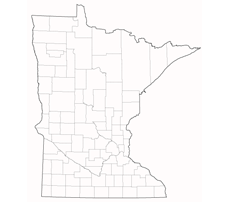 Capital - Saint Paul
Largest City - Minneapolis
Population - 5,266,214
Timezone - Central Time
Study in Minnesota
Minnesota is a Midwestern state located in the northern part of the U.S. The state's name derives from a Native American word for "sky-tinted water." Minnesota is actually known as the "land of 10,000 lakes," but in reality there are about 12,000 lakes across the state's territory. Minnesota is the 12th largest state in size and also the northernmost state in the country (apart from Alaska). The land in Minnesota consists of mountains, forests, and prairies. Minnesota has 72 state parks and 58 state forests covering about 4 million acres of land.
Aside from being known for its lakes and land, the citizens of the state are known for their distinctive way of speaking; Minnesotans speak North Central American English with a touch of Scandinavian-sounding words. Most Americans just refer to this accent as the "Midwestern accent" and it is generally associated with anyone from the state. Minnesotans are also stereotyped as possessing certain traits and manners, known as "Minnesota nice" which involves a strong sense of community and shared culture. According to the 2010 census, the population of Minnesota is approximately 5.3 million, with 60% of Minnesotans living in the city of Minneapolis. The second biggest metropolitan area in Minnesota is the state's capital, Saint Paul. The majority (88%) of Minnesotans are Caucasian, followed by African American, Hispanic, Asian, and American Indian.
An international student in Minnesota definitely needs to have a variety of clothes for both extreme warm and cold conditions that are associated with the state's continental climate; cold winters and hot summers with degrees ranging from −60 °F (−51 °C) to 114 °F (46 °C). Individuals who study in Minnesota will experience slightly different weather conditions depending on where their campus is located (e.g. warmer temperatures in the southern parts of the state).
If you need additional funding to study in Minnesota, explore financial resource options like scholarships and loans.
Learn More
Every international student in Minnesota has a variety of different schools to choose from; the state is home to 32 public universities and colleges and 20 private institutions. Six of these schools have been ranked among the top 100 liberal arts colleges in the country according to U.S. News & World Report. One of these top-ranked liberal arts colleges is Carleton College, located in Northfield, Minnesota. Carleton is known for its academic excellence and warm, welcoming campus environment. Carleton offers 37 different majors and 15 concentrations in the arts, humanities, natural sciences, and social sciences. There are 1,991 students (including 142 international students from 33 countries) enrolled at the college (2011) and 90% of the student body lives on campus. Carleton offers a more intimate and personal classroom setting, with the average class size being 18 students.
There are nearly 9,890 international students who currently study in Minnesota, and the majority of them attend the University of Minnesota (Twin Cities campus: Minneapolis - St. Paul). The University of Minnesota, (Twin Cities campus) was ranked 28th in the world and 9th in the U.S. out of 500 other public research universities; this placement was made by the 2011 Academic Ranking of World Universities. The University of Minnesota has five main campuses across the state. These campuses are located in the Twin Cities, Duluth, Crookston, Morris, and Rochester. The Twin Cities campus is the largest, with a total enrollment of 51,721 students. The total student population for all five of the campuses combined was 67,932 in 2010. The university has an International Student & Scholar Services group which works to serve the university's large international community. The ISSS office is located on the main campus (Twin Cities), but serves all of the university's campuses as well.
Every international student should consider the opportunity to study in Minnesota; the state is home to several top-ranked universities and liberal arts colleges, offering a plethora of different campuses and lifestyles to choose from. The Twin Cities encompass a huge metropolitan area full of exciting and bustling city life. On the contrary, if you prefer calm and natural campus settings, you can attend school outside the city in one of the smaller towns near the state's nature preserves. Whatever you prefer, you'll be able to find it in Minnesota. There are almost 10,000 international students currently studying in Minnesota, so perhaps they are onto something!
For more information and to search schools to study in Minnesota, and to contact them for free for further information, please visit the Study in the USA School Search.
Related Content: