---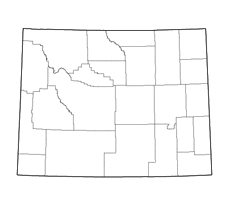 Capital - Cheyenne
Largest City - Cheyenne
Population - 544,270
Timezone - Mountain Time
Study in Wyoming
Not only is Wyoming the 10th largest state in the US, but it also has the lowest population. International students looking for a high-quality education with open expanses of the great outdoors will find Wyoming the perfect place to study. Those international students who study in Wyoming will have the opportunity to discover the Grand Teton National Park, Great Plains, Sierra Madre, and even the Continental Divide!
If you are an international student looking to avoid the city life, look no farther than Wyoming! While most universities in America are located in or near growing cities, students who study in Wyoming will get the opportunity to step away from that hustle and bustle – and instead meet their neighbor of 10 million acres of forested land. Wyoming protects more than 48% of the state's land, leaving much of the terrain relatively untouched. Not only is this the perfect environment for those international students studying environmental science, forestry, or the sciences, but there are many other ways to take advantage of Wyoming's rustic charm.
In the warmer months, international students can go hiking, mountain-biking, off-roading in the sand dunes, camping, fishing, or taking a dip in a hot spring. In the wintertime, students will find themselves skiing, snowshoeing, snowboarding, and ice-skating, just to name a few of the many outdoor activities available. Wyoming is indeed a wonderful location for the outdoor enthusiast.
There are also many traditional western activities that take place in Wyoming. International students can go horseback riding or participate in chuck wagon cook-outs, wagon rides and cattle drives that take place on dude ranches and throughout the state. Ever want to be a cowboy? Here's your chance! Moreover, the Native Americans invite visitors to their annual pow-wow celebrations located on their reservations in Yellowstone National Park.
If international students are unable to make the pow-wow, they'll want to make a special stop to visit Yellowstone National Park. Don't be surprised if you have to stop for buffalo—or if you spot a wolf or bear hanging out on the side of the road. Yellowstone is the world's first national park, and actually contains half of the world's geysers. Moreover, in addition to being beautiful, Yellowstone offers internship and apprentice programs to international students who study in Wyoming. Not only is this a once in a lifetime opportunity, but international students can also reside inside the park during their program.
If you need additional funding to study in Wyoming, explore financial resource options like scholarships and loans.
Learn More
Yellowstone is not the only location in Wyoming that offers internships and apprentice opportunities. There are a variety of restaurants, ranches, and resorts that have positions throughout the year.
Back in the classroom, there are many schools in Wyoming to make sure that academics are just as rewarding. Three of the largest institutions in Wyoming are University of Wyoming , Western Wyoming Community College , and Northwest College . The largest of them is the University of Wyoming in Laramie, which is notably diverse—with students from all 50 states and international students more than 75 countries, totaling about 750 international students in 2011. Because of the diverse student population, the University of Wyoming offers many organizations, classes, and services geared for international students. There are many activities to welcome international students such as a weekly International Coffee Hour, the American Conversation Club, and International Week. International students will find that many of these programs reach out to spouses and children as well. For example, if a family needs assistance learning English, the university is there to assist them. One major draw for students is that the University of Wyoming has one of the lowest student-teacher ratios and is one of the least expensive. In 2010, the non-resident tuition was only about $12,000. With a high-quality, affordable, and personalized education where your professors know your name, Wyoming is well-suited for many international students looking for a US education.
In conclusion, many international students choose to study in Wyoming since they can take advantage of a high-quality education with access to many national parks and outdoor activities. If you are an international student looking to get the western experience, Wyoming might just be the place for you!
For more information and to search schools to study in Wyoming, and to contact them for free for further information, please visit the Study in the USA School Search.
Related Content: