---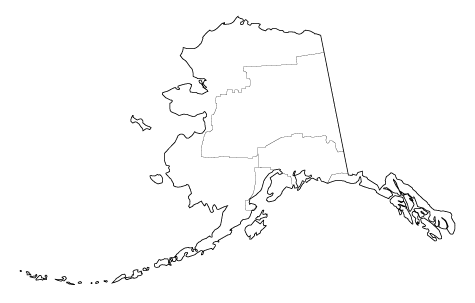 Capital - Juneau
Largest City - Anchorage
Population - 710,231
Timezone - Alaska
Study in Alaska
The state of Alaska is America's largest state by land area and is located on the far northwestern tip of the American continent. Despite it's impressive size, the state of Alaska is actually the least populated of all the U.S. states, with almost half its population of citizens living in and around the major city of Anchorage (the only Alaskan city to boast a population in excess of 100,000 people).
Additionally, Alaska has five sizable cities, with populations ranging from 10,000-100,000 people (Fairbanks, Badger, Knik-Fairview, College, and Alaska's capital city of Juneau), as well as over 50 smaller cities and townships scattered throughout its expansive geographical terrain.
Deciding to study in Alaska, especially as part of a study abroad experience, is certainly not a small decision, or one that should come lightly. International students in Alaska face a number of unique challenges, including acclimating to sometimes harsher climate ranges, budgeting for above-average cost-of-living expenditures, and deciding between a smaller range of undergraduate and graduate institutions.
If you need additional funding to study in Alaska, explore financial resource options like scholarships and loans.
Learn More
However, for those with a clear vision of what type of study abroad experience they wish to have, the choice of studying in Alaska can easily prove to be the best decision an international student could ever have made! Many times, international students in Alaska choose to study in Alaska because they value the beauty and serenity that comes with its untapped natural wilderness, less populated townships, and generally more laid-back lifestyle. Perhaps, they value the opportunity to learn and master American English for future career-related goals, but are not as invested in immersing themselves in the hustle and bustle of the major American city cultures located in the more densely populated, contiguous region of the United States. Many international students in Alaska value the once in a lifetime opportunity to truly explore their own personal identity and limitations (removed from the social constraints of families, cultures, and technological societies) in an environment rich in uninhibited wilderness, beauty, and personal space. While realizing their decision of studying in Alaska, they also make time for themselves to experience some of Alaska's many breathtaking parks and natural wonders, including the Alaskan night skyline's awe-inspiring (must-see!) Northern Lights.
While there are more than a handful of colleges and universities in Alaska, U.S. accredited universities in this region include the University of Alaska- Anchorage, University of Alaska- Fairbanks, University of Alaska- Southeast, and Alaska Pacific University. International students with their heart set on personal growth through adventure into the wilderness should not let financial considerations or insecurities about adapting to more extreme geographical environments discourage them from researching options to study in Alaska. To get a better sense of some of what it's really like for international students in Alaska, check out this online resource on getting to know Alaska. For excellent resources to assist in making a smooth and cost-effective transition to live and study in Alaska, international students should also research Craigslist roomshare ads for Alaska and frequently asked questions students and others have had when planning their initial move to Alaska.
For more information and to search schools to study in Alaska, and to contact them for free for further information, please visit the Study in the USA School Search.
Related Content: