---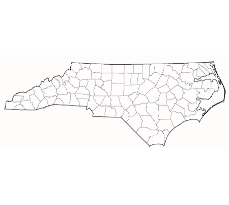 Capital - Raleigh
Largest City - Charlotte
Population - 9,380,884
Timezone - Eastern Time
Study in North Carolina
North Carolina is one of the few states that offers views of the breathtaking beaches of the Atlantic as well as the majestic mountains of the Appalachians. Partnered with some of the nation's premiere universities, the diversity of North Carolina makes it an ideal place to study abroad in the U.S. The North Carolina University System features 17 state institutions, in addition to countless other independent colleges and universities.
Whether students are interested in banking and commerce, information technology, environmental studies or agriculture, North Carolina universities feature academic programs to suit any student.
North Carolina's economy has traditionally been anchored on agriculture and manufacturing of textiles, chemicals, and paper. With a diverse and lush state landscape, these industries translate into educational programs focused on environmental sciences and agriculture.
In addition to agriculture and manufacturing, the state has become a leader in information and biotechnology developments. International students can participate in research at institutions including the University of North Carolina at Chapel Hill, North Carolina State University at Raleigh and Duke University which are in close proximity to Research Triangle Park in the Raleigh-Durham area. Since it was established in the 1950s, the research center, comprised of federal agencies and almost 200 companies, has grown exponentially with the aid of academic research. Due to the success of Research Triangle Park, other such areas are expanding and developing around the state that will focus on biotechnology, nanotechnology, biochemistry and genetics.
If you need additional funding to study in North Carolina, explore financial resource options like scholarships and loans.
Learn More
Charlotte has also grown rapidly in the banking and finance industry. Charlotte has emerged as the second largest banking center in the U.S. after New York City. Students looking to gain experience in the financial industry will find Bank of America and Wachovia headquarters located in Charlotte.
One unique feature of the University of North Carolina is its exchange program. The UNC Exchange Program organizes the exchange of students from UNC campuses with other students overseas. According to their website, the exchange program currently operates in Australia, Canada, Brazil, Finland, Sweden, Denmark, Germany, Mexico and Uruguay and serves as a liaison for programs available through the independent International Student Exchange Program.
Students who choose to attend North Carolina State University have resources from the Office of International Students available to them. An advisor in the Office of International Students will help international students with anything from immigration and travel information to employment and university regulations. International students may also take advantage of the Global Training Initiative that gives first-year students the skills they need to succeed as an American student.
While students are studying in North Carolina they may also find time to enjoy the natural parks, beaches, as well as, cultural and sporting events. The Great Smoky Mountains National Park offers trails for hiking and biking, and sites for camping. The Outer Banks draws thousands of visitors to North Carolina coast every summer. In Asheville, students can explore the River Arts District or visit the famous Biltmore Estate. North Carolina offers an enriching educational and recreational experience for any student looking to study abroad!
For more information and to search schools to study in North Carolina, and to contact them for free for further information, please visit the Study in the USA School Search.
Related Content: