---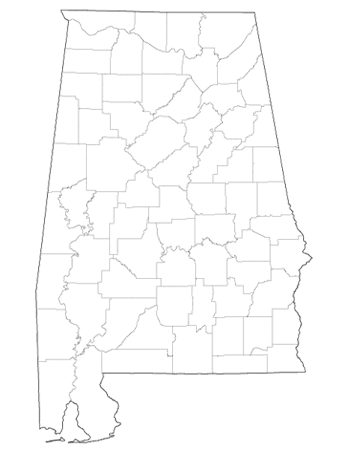 Capital - Montgomery
Largest City - Birmingham
Population - 4,779,736
Timezone - Central
Study in Alabama
International students who study in Alabama will find plenty of opportunities to enhance their classroom education with an equally valuable education on contemporary American cultures, politics, and social issues.
Located in the southeastern region of the United States, international students who study abroad in Alabama are situating themselves centrally along a region of the country often referred to as the 'Bible Belt'; which describes a section of the country (largely throughout the southern portion of the United States and running as far west as Texas and Oklahoma) wherein a significant amount of social and political culture is influenced and shaped by a socially conservative, religious Christian (disproportionately evangelical Protestantism and Baptist) population. International students who study abroad in Alabama indeed find themselves in the heartland of the Bible Belt, with less than 10% of Alabama's citizens identifying as 'non-religious people.' International students in Alabama can experience first hand the creative ways in which the U.S. federal separation of church and state in government can be challenged and interpreted at the state level, as well as the ways in which American understand and affirm their Christian identities on the individual level.
International students in Alabama are also living in a state rich in African American political-historical significance. Alabama played a role center stage during both the American Civil War and the American Civil Rights Movement. This Alabama History Time Line may prove a worthwhile and handy resource for international students who want to learn more about the unique history of this state (and the genesis of the American southern culture) before (and during) their study abroad in Alabama.
If you need additional funding to study in Alabama, explore financial resource options like scholarships and loans.
Learn More
Nestled between Georgia (to its east), Florida (to its south), Mississippi (to its west), and Tennessee (to its north), Alabama enjoys the whole range of the geographical land features these other states are so well known for (including the majestic Appalachians Mountains in the north, plains at sea level, several rivers (one of the largest inland waterway systems in the country), and a coastline along the Gulf of Mexico. Needless to say, there are plenty of Alabama Attractions and Activities international students in Alabama can find to enhance their travel abroad experience. International students in Alabama find time to experience art and music festivals, enjoy sports (such as race car driving, golf, rock climbing, biking, hiking, backpacking, hunting, fishing, and various water sports), or visit other state attractions (including gardens, beaches, state parks, zoos, aquariums, amusement parks, and historical re-enactments). There is no shortage of options when it comes to great weekend excursions off-campus, all throughout the state.
Alabama's largest cities by population (and in descending order) include Birmingham, Huntsville, Mobile, Montgomery (the state capital), and Tuscaloosa. There are over 50 colleges and universities throughout the state of Alabama and, among those, plenty campuses offer real opportunities to study in Alabama. Currently, many of the international students in Alabama are visiting from the countries of India, China, and Japan. Academic institutions currently leading in international student recruitment in Alabama include Auburn University, The University of Alabama at Birmingham, University of North Alabama, and University of South Alabama.
For more information and to search schools to study in Alabama, and to contact them for free for further information, please visit the Study in the USA School Search.