---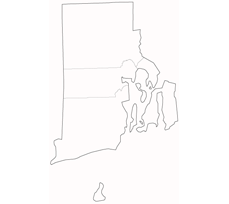 Capital - Providence
Largest City - Providence
Population - 1,053,209
Timezone - Eastern Time
Study in Rhode Island
When an international student decides to study in Rhode Island they are sure to have their top-notch academic experiences coupled with the nautical culture and traditional New England architecture of the townships of the Ocean State.
Take Johnson & Wales University, for example, which offers undergraduate and graduate programs in business, hospitality, culinary arts, technology and education combined with a diverse community of 16,000 students from 89 different countries. Located in a small city, Providence, students will have the opportunity to get the true "college experience" with access to the city's historical monuments, entertainment, and attractions – not to mention it's close proximity to Boston and New York City (without the price tag!).
Rhode Island shares it's borders with Connecticut to the west and Massachusetts to the north and east, as well as southern maritime boundaries with the Atlantic Ocean, Rhode Island Sound, and Long Island, New York. The smallest state in the union, Rhode Island —including the 14% of its area comprised of bays, inlets, and oceanic territory—has an area of a mere 3,140 square kilometers. This gives international students the ability to take advantage of the states main indoor and outdoor attractions with the flexibility to spend long weekends traveling to neighboring states.
Environmentally speaking, the state has two distinct regions, divided between the eastern and western portions of the state. The eastern region of the state is considered to be lowlands, containing the Narragansett Bay. The western portion of the state is considered part of the New England Upland, and contains the highest point in the state - Jerimoth Hill. The state's unique mixture of New England townships with a nautical emphasis, beautiful beaches, bays, and inlets, as well as the Northeastern Coastal Forests that run through the state provide a beautiful environment in which international students in Rhode Island can study, relax, and enjoy!
If you need additional funding to study in Rhode Island, explore financial resource options like scholarships and loans.
Learn More
With a climate classification of humid-continental, the weather may feel familiar to international students in Rhode Island who are visiting from Moscow, Russia; Beijing, China; Sapporo, Japan; and Montreal, Canada. Given the warm, rainy summers and cold, snowy winters, the more than 1 million people who call Rhode Island home take time out for some of their favorite activities in the region.
The recreational opportunities in Rhode Island range from enjoying the wondrous outdoors—with the state boasting hundreds of beaches and miles of navigable water, many take advantage of chartered boat tours, fishing and canoeing, and wilderness trails for hiking. Other noteworthy features that visitors to the state may want to take in are the numerous farms, wineries, lighthouses and other historic sites that dot the quaint landscape of this state. However, the scenic outdoors isn't the only option for relaxing in Rhode Island; there are also major cultural and urban centers in both Providence and Newport. From museums and flourishing music and art scenes, to daytime events and festivals, to active nightlife—Providence and Newport have it all.
The academics in Rhode Island are held in very high regard, and the state is home to the, prestigious Brown University, as well as the United States Naval War College. As an undergraduate, an international student planning to study in Rhode Island can expect to pay an average of more than $28,000 to attend a private institution. As a graduate student at a private institution the figure is lowered to around $6,500. If an international student is planning to study in Rhode Island in the public university system (which houses three separate branches with campuses throughout the state), tuition costs are considerably lower than those at their private counterparts such as Brown University (with an approximate tuition cost of $35,000). To study at a public institution as an undergraduate, international students in Rhode Island can expect to pay an average of more than $17,000 in tuition. International students in Rhode Island studying at public institutions at the graduate level can expect to pay an average of $5,500 in tuition. For more information on each university, a complete list of public and private universities in the state can be found here.
For more information and to search schools to study in Rhode Island, and to contact them for free for further information, please visit the Study in the USA School Search.
Related Content: