---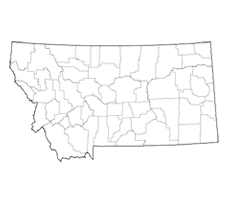 Capital - Helena
Largest City - Billings
Population - 974,989
Timezone - Mountain Time
Study in Montana
Imagine sitting in a green, open field, where the crisp air tickles your skin; the blue, flawless skies are reflected in miles and miles of quiet waters; and snow-topped mountains soar in the distance. Well, dream no more of this paradise because it really does exist in the breath-taking state of Montana. Its stunning abundance of lakes and mountains, alongside its solid academic programs and captivating culture, attracts international students to study in Montana.
Although it is the fourth largest state and is relatively chilly year round, Montana is said to feel like a small and cozy place to live. The entire state has fewer than a million residents, making its communities tight-knit and granting nature lovers hundreds of miles of land to explore. It's home to ten national forests, more than twenty national wildlife refuges, seven Indian reservations and, of course, lots and lots of mountains.
The state's name is derived from the Spanish word "montaña", meaning mountain, which is quite suitable, since the state contains at least one hundred different mountain ranges. Montana's vast lands are as diverse as they are dynamic: the state has a varied geography, from plains and lowlands to valleys and mountains. The Continental Divide separates Montana in two, consequently creating divergent climates, meaning that depending on where you are in Montana, the weather can be extremely different. Snow can fall at anytime of the year, even though it is rare in the months of July and August.
Adventure-seekers lust for Montana's wild terrain. Its untouched countryside is both beautiful to admire and exciting to explore. Glacier National Park has spectacular views of huge glaciers, valleys, waterfalls, mountains, wildlife and fields of flowers. The park itself contains more than 700 miles of trails to hike and many giant lakes to fly fish and cruise. International students in Montana might also spot grizzly bears at Glacier National Park, since the state boasts the largest grizzly bear population in the USA other than Alaska.
If you need additional funding to study in Montana, explore financial resource options like scholarships and loans.
Learn More
Students who study in Montana can also explore three of the five entrances to the adored Yellowstone National Park. With millions of acres of undiscovered powdery snow, the state becomes a wonderland for skiers in the winter. Amongst the beauty of Montana's natural heritage is a thriving culture of music and art. Whether it is on the hottest day of summer or in the middle of a harsh winter storm, there's always something to do in Montana. International students in Montana can learn about the state's rich history and culture through its many events, whether at a local concert or art gallery.
Before the European invasion, Montana was home to several indigenous people groups, including large Indian tribes like the Crow and Cheyenne. During the mid 1800s, hundreds of miners flocked to Montana, attracted by the discovery of gold, silver, copper and coal. The gold output in Montana generated hundreds of millions of dollars. Today, Montana's economy is still heavily based on oil and coal mining. A large chunk of the economy also comes from the state's abundance of fields of grains, with everything from wheat, rye and barley to oats, flaxseed and sugar beets. The big state is also big on microbreweries; it ranks third in the nation in craft breweries per capita.
Montana has twelve colleges and universities. The two largest schools, University of Montana (the UM "Griz") and Montana State University (the MSU Cats) have a strong athletic rivalry. This rivalry is so historic that people from all over the state travel to see the games. In recent years, the number of international students in Montana has increased at most of the universities. More than half of Carroll College's new students are from out of state. Students who study in Montana should be prepared for a wild ride. On most campuses, it's not uncommon to spot deer at any time of the day. A weekend trip for Montana students might include a hike in the deep tundra. Or perhaps a commute to school will require some heavy-duty snow boots. What's for sure is that Montana is unlike any other.
Both of these universities offer numerous campuses throughout the state of Montana including Montana State University Billings and Great Falls College Montana State University .
For more information and to search schools to study in Missouri, and to contact them for free for further information, please visit the Study in the USA School Search.
Related Content: