---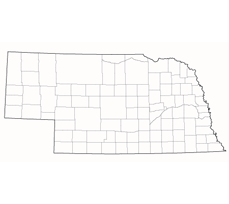 Capital - Lincoln
Largest City - Omaha
Population - 1,796,619
Timezone - Central Time
Study in Nebraska
Since the recent recession in the United States, the country's economic sphere has been struggling to recover. International students might wonder if it's worth the time, money and effort to study in America to get a degree in a country where a gloomy unemployment picture looms.
However, one state in particular has maintained a stronghold in the economic sector. According to Competitive Advantage Assessment and Strategy for Nebraska, a report done by the Nebraska Department of Economic Development and Nebraska Department of Labor and Battelle Technology Partnership Practice in October 2010, "Nebraska has weathered the recession much stronger than other states and has an opportunity to build on that momentum going forward. As of July 2010, Nebraska's unemployment rate stood at 4.7 percent, compared to the national average of 9.5 percent."Currently, Nebraska's unemployment rate is still lower than the national average.
There are five Fortune 500 Companies based in Nebraska. Fortune 500 companies are 500 of the largest industrial corporations in the United States, published in an annual list by Fortune magazine. The five Fortune 500 companies in Nebraska include Berkshire Hathaway, Union Pacific, ConAgra Foods, Peter Kiewit Sons, and Mutual of Omaha Insurance. These companies have a combined revenue of more than $180 million. Berkshire Hathaway is ranked 7 on the Fortune 500 list.
Five sectors (biosciences; financial services; precision metals manufacturing; renewable energy; and transportation, warehousing and distribution logistics are key players in Nebraska's economic world, and international students studying in Nebraska might want to keep them in mind when deciding what degree to pursue.
Two of the most popular majors studied at the University of Nebraska-Lincoln are Business Management & Marketing and Related Support Services and Engineering. An architectural engineering major at The Charles W. Durham School of Architectural Engineering and Construction provides a great foundation for a successful career in that the "demand for architectural engineering graduates is very high, because there are fewer than 20 programs in the country, while there are thousands of architectural engineering design firms,"according to the University's website.
If you need additional funding to study in Nebraska, explore financial resource options like scholarships and loans.
Learn More
With 150 majors to choose from, this public university will keep international students studying in Nebraska busy.
Nebraska has thee higher learning institutions in its state college system: Chadron State College, Peru State College, and Wayne State College. Much smaller than the University of Nebraska, Chadron had a student body of 2,235 during the 2010–2011 school year. It also contrasts with the University of Nebraska in that it is located in a rural setting. Two of its most popular programs of study are biology/biological sciences and business administration and management, both of which will set students up in two popular fields of employment.
Also a small college, Peru State College, which was founded in 1867, was Nebraska's first college and the third teacher education institution established west of the Missouri River. Peru State College has three schools: the School of Education, School of Arts and Sciences, and the School of Professional Studies.
Wayne State College has around the same student body size as the other state colleges and is part of the NCAA Division II. Located in the Midwest, Nebraska offers a mix of outdoor adventure and history, along with a few quirky attractions, such as Carhenge, a replica of Stongehenge with a catch: it's made out of old cars.
Fort Cody Trading Post offers international students who study in Nebraska a chance to see the wild wild west. In North Platte, the trading post has a museum with cowboy artifacts and a free Buffalo Bill's Miniature Wild West Show.Dobby's Frontier Town offers students a chance to see what it was like for settlers traveling west—complete with a jail, saloon and general store.Omaha Botanical Gardens provides students with a chance to learn and gaze at unique plants and flowers. They are located close to the University of Nebraska at Omaha.
For more information and to search schools to study in Nebraska, and to contact them for free for further information, please visit the Study in the USA School Search.
Related Content: