---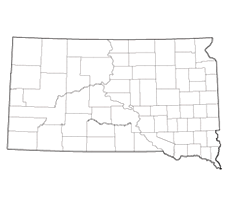 Capital - Pierre
Largest City - Sioux Falls
Population - 812,383
Timezone - Central Time
Study in South Dakota
Four stone cold faces stare down at visitors from 500 feet up. Mount Rushmore is a homage to four presidents: George Washington, Thomas Jefferson, Theodore Roosevelt, and Abraham Lincoln. Carved into the side of a 5,725-foot mountain sculpted by Gutzon Borglum, these 60-foot high faces cost only $1 million to shape in 1927, an incredible bargain for the national and world esteem they get today. International students in South Dakota will be able to venture to this iconic monument in the Black Hills of Keystone.
Just south of this majestic mountain is Rapid City, home to several colleges and universities. National American University-Rapid City "welcomes students of diverse interests, cultures and abilities, and prepares them for careers in health care, business and business-related fields." National American University also has campuses in New Mexico, Colorado, Missouri, Minnesota, Kansas and Texas, making transferring easy if international students plan to check out other states in the US. The School of Mines and Technology is also located in Rapid City. More than 2,000 students attend, with 7.1 percent being non-U.S. citizens. The School of Mines and Technology offers 16 engineering and science concentrations and is well-renowned as one of the best engineering programs in the US.
Just over 60 miles away from Mount Rushmore and less than 50 miles from Rapid City is Black Hills State University in Spearfish. Black Hills State University is the third largest public university in South Dakota offering studies in three colleges: the College of Arts and Sciences, the College of Business, and the College of Education. Known for its rural campus, Black Hills State University is also home to the team mascot, the Yellow Jackets, which has a rodeo team along with football, basketball, cross country, and many more teams!
Close to all of these colleges and universities is the Crazy Horse Memorial, another monumental mountain sculpture. Crazy Horse Memorial is the world's largest mountain carving and has been in production since 1948. "When completed the Crazy Horse mountain carving will be 641 feet long by 563 feet high," according to the Memorial's website. The Crazy Horse Memorial came about when Chief Henry Standing Bear wrote to sculptor Korczak Ziolkowski in 1939, "My fellow chiefs and I would like the white man to know the red man has great heroes, too." Just about 17 miles from Mount Rushmore, international students in South Dakota can see the great faces of Native American history and those who helped lead the United States to where it stands today.
If you need additional funding to study in South Dakota, explore financial resource options like scholarships and loans.
Learn More
Sioux Falls in the largest city in South Dakota, as well as the fastest growing city in South Dakota. Beautiful waterfalls from the Big Sioux River reveal billion and a half year old quartzite. At Falls Park, international students who study in South Dakota can explore these waterfalls. Sioux Falls is home to the University of Sioux Falls, a private liberal arts college affiliated with the Baptist Church. Augustana College is another private, liberal arts college in Sioux Falls, but it is affiliated with the Lutheran Church.
In the South of the state is South Dakota State University. South Dakota State University is the state's largest university with more than 12,000 students enrolled. Featuring 175 programs of study and 200 student organizations, the university offers international students plenty of activities and concentrations to explore. In fact, South Dakota State University ensures that 95 percent of students go onto jobs, graduate school, or other opportunities such as internships and fellowships.
Off campus, South Dakota is a land rich with outdoor splendor. The South Dakota State Park system has 54 state park and recreation areas. In the Northeast, the Glacial Lakes and Prairies region offers pheasant hunting and fishing. The central region is home to four massive reservoirs—Oahe, Sharpe, Francis Case, and Lewis and Clark, which make up South Dakota's Great Lakes region, with more than 440 miles of waterway for boating, fishing, sailing, swimming and windsurfing. South Dakota is also home to the highest point in the United States east of the Rocky Mountains. Harney Peak in the Black Hills has an elevation 7,242 feet.
For more information and to search schools to study in South Dakota, and to contact them for free for further information, please visit the Study in the USA School Search.
Related Content: