---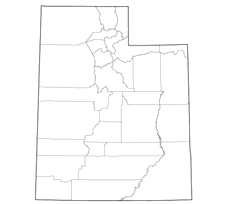 Capital - Salt Lake City
Largest City - Salt Lake City
Population - 2,784,572
Timezone - Mountain Time
Study in Utah
Located in the west, Utah is a popular tourist destination for outdoor and recreational activities and has a unique history all its own. The name "Utah" is derived from the Ute tribe (Native American) and translates to "people of the mountains." Many people choose to study in Utah because of its diverse and beautiful landscapes ranging from thriving pine forests to grand, arid deserts; there are three distinct geological regions including the Rocky Mountains, the Great Basin, and the Colorado Plateau.
International students in Utah will most likely live within the state's two largest metropolitan areas: Salt Lake City or Logan. Approximately 80% of Utah's 2.8 million inhabitants live along the Wasatch Front (centering on Salt Lake City). Because the population is so concentrated in this one area the rest of the state is nearly uninhabited, making Utah's population the sixth most urbanized in the United States.
As stated before, individuals who choose to study in Utah will most likely attend school at one of the universities in either Logan or Salt Lake City. The greater Salt Lake City metropolitan area has a population of about 1.2 million people. Salt Lake City has a semi-arid climate consisting of four distinct seasons: hot, dry summers, cold and snowy winters, and brief transitional seasons of fall and spring. The highest recorded temperature is 107 °F (42 °C) which was recorded in the summer of 1969, and the coldest temperature recorded is ?30 °F (?34 °C) from 1933. Salt Lake City's economy is service-oriented, and other major industries include government, trade, transportation, utilities, and professional and business services. Salt Lake City is also home to the University of Utah . The University of Utah is a public, coeducational research university and is the oldest higher education institution within the state. International students in Utah will find that this university offers a large variety of study options with over 190 different majors for undergraduate and graduate students. Of the thousands of international students in Utah, over 2,000 of them attend the University of Utah, contributing to the overall student population of 30,000. Foreign individuals who choose to study in Utah will find that this university welcomes international students. At U of U there is an International Student Council whose objective is "is to help international students to adjust to their new environment as well as promote international understanding and cooperation, enable to meet more people and help students to make more friends, both international and residential."
If you need additional funding to study in Utah, explore financial resource options like scholarships and loans.
Learn More
Utah State University is located in Logan, Utah. The greater Logan metropolitan area has an estimated population of about 128,000 people. In 2005 and 2007 Logan was named the "safest city in the United States" by the Morgan Quitno Press. USU offers 176 bachelor's degrees, 97 master's degrees, and 38 doctoral degrees. The current student population consists of about 29,000 individuals, many of them from foreign nations. USU also has an international student council designed to help international students in Utah promote cultural diversity and international awareness.
International students in Utah have the chance to study in some of the country's most urbanized areas and still have easy access to several of the country's most recognized geological sites. Both the University of Utah and Utah State University are home to thousands of students, both from the U.S. and foreign nations, and provide many degree options to the students who study there.
For more information and to search schools to study in Utah, and to contact them for free for further information, please visit the Study in the USA School Search.
Related Content: