---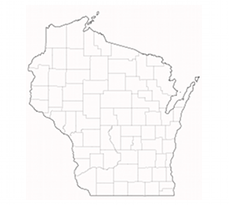 Capital - Madison
Largest City - Milwaukee
Population - 5,654,774
Timezone - Central Time
Study in Wisconsin
International students in Wisconsin will have access to first-rate academic experiences with a full range of activities and environments from which to choose. Whether you're studying in one of the many culturally-rich major cities or her scenic and agrarian rural towns, "America's Dairyland" offers an international student the best of both worlds. The state has a rich history of cultural and ethnic diversity dating back to its early settlement which it maintains to this day. International students in Wisconsin will be able to gain exposure through their studies to a number of technical areas in thriving Wisconsin industries as varied as manufacturing, agriculture and entertainment—not to mention the rigors of traditional academic disciplines at one of the state's many fine institutions of higher education.
Wisconsin houses a population of almost 5.7 million people (the 20th largest in the US) spread out over the 23rd largest area, measuring 170km2. The average population density statewide is around 39 people per square kilometer (ranking 25th nationally), but Wisconsin's major urban centers like Milwaukee (the largest city in the state and the 28th largest in the nation) and Madison (and their greater metropolitan statistical areas) combined account for more than 2.3 million residents. Basically, Wisconsin has both bustling and culturally-rich urban areas, as well as relaxing and picturesque rural settings for those studying in Wisconsin to enjoy.
The state itself is situated between Michigan (to the northeast), Minnesota (to the west), Iowa (to the southwest), Illinois (to the south), as well as two of America's natural treasures called, "The Great Lakes"—Lake Superior (to the north) and Lake Michigan (to the east). These Lakes—especially Lake Michigan—help drive the third-largest industry in the state; tourism! Be it fishing, boating, canoeing, or water-skiing, during the summer there are a ton of opportunities to cut loose in (or on!) the world's fifth largest lake.
The climate classification is humid continental, which is the same identifier given to the climates of Beijing, Sapporo, Montreal, Moscow, and Vladivostok. It is cold (teens and single-digit weather) and snowy in the winter, while mild to warm in summer (60°F-80°F). During the winter months, some favorite outdoor activities in the region include snowmobiling, skiing, snowboarding, ice fishing, hiking, and hunting. Wisconsin is also home to many cultural attractions including museums and historic sites, as well as more music festivals than any other state in the nation (including Summerfest, the largest annual music festival in the world).
If you need additional funding to study in Wisconsin, explore financial resource options like scholarships and loans.
Learn More
Moreover, the third-largest city in the United States, history and culture-rich Chicago is also on the shores of Lake Michigan, just a mere hour and a half away. Anyone studying in Wisconsin will have a wide variety of recreation and entertainment options available to explore and enjoy when not busy hitting the books!
Wisconsin's median income is more than $49,000, making it the 21st highest in the United States. International students in Wisconsin can expect to pay an average of more than $12,600 in tuition in order to pursue degrees from state-run institutes of higher education. The University of Wisconsin—Milwaukee is the least expensive at $6,000+ and the Madison campus (ranked as one of the finest schools in the nation) is the most expensive at $20,000+. Both the Milwaukee School of Engineering and Marquette University cost more than $25,000. A list of some institutions and their fees for international students can be found here and a complete list of institutes of higher education in the state can be found on our International Student School Search.
Wisconsin, though prominently idealized as an agricultural state, is actually better described as a varied microcosm of the broader United States. "America's Dairyland" is still responsible for 25% of the nation's cheese production (the leading producer) and ranks 2nd in both overall and per capita milk production (behind California and Vermont, respectively). However, the leading economic sector in the state is actually manufacturing (though, much of this is focused on processing of agricultural goods). Wisconsinites, as well as international students and others studying in Wisconsin, can explore a full range of American experiences. Whether you choose swimming in or water-skiing on Lake Michigan or one of the many other lakes in the state, hiking, camping, or horseback riding in the great outdoors of farming-based rural Wisconsin, or taking in the cosmopolitan culture and nightlife of urban centers like Milwaukee and Madison, international students in Wisconsin will have plenty to enjoy in this Midwestern state!
For more information and to search schools to study in Wisconsin, and to contact them for free for further information, please visit the Study in the USA School Search.
Related Content: