---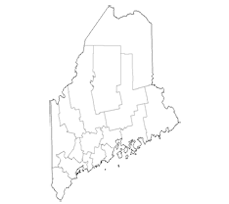 Capital - Augusta
Largest City - Portland
Population - 1,318,301
Timezone - Eastern Time
Study in Maine
In the northeastern corner of the United States is Maine. Maine is part of New England and is the most eastern state with the Atlantic Coast on one side, New Hampshire on the other and Canada to the north. Rocky coastline and lobstering are iconic factions of life for students who want to study in Maine.
Maine is divided into eight tourism regions, including Aroostook Country, Downeast and Acadia, Greater Portland and Casco Bay, Kennebec and Moose River Valleys, Maine Lakes and Mountains, Mid-Coast, the Maine Highlands, and the Maine Beaches. Combined, these regions have 6,000 lakes, 32,000 miles of rivers, 5,000 miles of coast and 17 million acres of forestland. Each region offers different things for international students in Maine to see and do.
Aroostook is the state's largest county and known to locals as simply, The County. 2,000 lakes and rivers travel through this area including the St. Johns River and Echo Lake. Presque Isle, the largest town in The County, is the starting point of the world's largest scale model of the solar system. The center of the solar system is at the University of Maine Presque Isle.
Downeast and Acadia didn't get its name by accident. Downeast is traditionally the direction the sailing ships traveled from New York and Boston, downwind and to the east. In the Downeast region, you can taste fresh fish and lobster right off the boat. Acadia is from the Greek word for earthly paradise, which is the name for the national park that is in this region. Acadia National Park was the first national park east of the Mississippi and consists of 40,000 acres and 17 mountain peaks.
Greater Portland and Casco Bay is Maine's largest urban area. The Old Port is a shopping district filled with plenty of boutiques, and the Arts District is close by with galleries and antique stores. Several colleges and universities also call Portland their home.
Maine's lakes and mountains do not only offer water sport activities, hiking and snowmobiling, it is also home to many festivals and fairs year round. Bethel Winterfest is in January. In the heat of the summer in June, students can listen to blues music at the Maine Blues Festival in Naples. Come back to school with an appetite not only for learning but for Maine's cuisine at Bethel Harvestfest & Chowdah Cookoff in September.
If you need additional funding to study in Maine, explore financial resource options like scholarships and loans.
Learn More
The Mid-Coast is full of small fishing villages international students in Maine can explore. Whale watching and sea kayaking are popular sports. In Bath, students can learn about the Mid-Coast's seaward heritage at the Maine Maritime Museum.
Out of the 5,000 miles of coastline in Maine, 30 quaint miles comprise Maine's southern coast at the Maine Beaches. Shopping is the name of the game in Kittery, where there are 150 outlet stores. Ogunquit is a year-round resort town, so students will always find action on the streets of this town. In Wells, there is bird watching at the Rachel Carson Wildlife Refuge. Rachel Carson was an accomplished American ecologist, scientist and writer. Beaches are another obvious activity students will love about Maine located throughout this region.
The Maine Highlands is home to Maine's largest lake, Moosehead, which is 40 miles long and 20 miles wide. Maine's largest mountain, Mt. Katahdin, is also in this region. Maine's industrial outputs consist chiefly of paper, lumber and wood products. In the Highlands many cities, such as Bangor and Millinocket, show evidence of their logging history such as the he Maine Forest and Logging Museum.
As one can see, there is much to do in Maine, from outdoor activities to deliciously fresh cuisines to try. Inside the classroom, you'll find that Maine's state diversity is also reflected in the school system as well. The University of Southern Maine is part of the University of Maine college system with locations in Gorham and Lewiston. The University of New England is an independent college with campuses in Portland and Biddeford, offering studies at the College of Arts & Sciences, the Westbrook College of Health Professions, College of Osteopathic Medicine, College of Pharmacy, and College of Graduate Studies.
If you are The Kennebec and Moose River Valley is home to Augusta, Maine's capital city. Waterville is a town active in the arts. A turn-of-the-century Opera House still hosts shows throughout the year and hosts the annual Maine International Film Festival. There are also two colleges in Waterville. Thomas College is a small, private college that possesses a unique and impressive statistic; 94 percent of their graduates find jobs in their field in less than 90 days after graduating. Their area of study is primarily focused on business, technology and education. Colby College is another small, private college where just under 2,000 students come to study from 45 states and 67 countries.
The University of Maine at Farmington was Maine's first public higher learning institution founded in 1864. The University of Maine at Farmington offers the same small, private college advantages with small class sizes at much lower cost. Bowdoin College is located in Brunswick, Maine's oldest college town. This college has an extremely small student to faculty ratio at just 9 to 1.
For more information and to search schools to study in Maine, and to contact them for free for further information, please visit the Study in the USA School Search.
Related Content: