---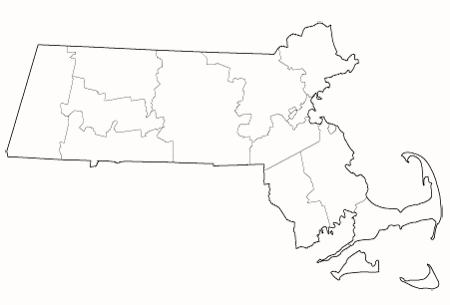 Capital - Boston
Largest City - Boston
Population - 6,593,587
Timezone - Eastern Time
Study in Massachusetts
The state of Massachusetts, located in the Northeastern part of United States, neighbors the states of Rhode Island, Connecticut, Vermont, New Hampshire, and lies just to the east of New York. In fact, many international students in Massachusetts may have first considered living in the fast-paced, densely populated New York City, but then decided the dynamic city of Boston offered all the cultural richness, diversity, and stimuli of the big city, but on a more welcoming, slightly smaller, and more moderately-paced scale. That said, the Boston metropolitan area is still considered a major U.S. city with a diverse population well in excess of 6 million people, approximately 2 million of which live in Boston city proper.
With its incredibly significant, undeniably unique place in American history and culture, from the earliest historical period of colonial America onward, Massachusetts continues to play a primary contributing roll to American high-culture and fine-arts. Massachusetts is home to countless world-class museums and national historical sites, and has produced some of Americans most famously creative academics, artists, writers, and musicians. Massachusetts' role in American education is also without equal. Not only is it home to the oldest elementary and high schools in the country, it boasts the oldest and arguably most prestigious college in the country, Harvard University, which was founded in Massachusetts in 1636. Both Harvard University and the neighboring university of Massachusetts Institute of Technology consistently rank among the world's best universities year after year. Additionally, there are over 120 quality institutions of higher learning in Massachusetts, with over 50 in the Boston metropolitan area alone! Other well-established, top-ranking universities in Massachusetts include Boston University, Boston College , Tufts University, University of Massachusetts Amherst, Northeastern University, Brandeis University , Wellesley College , and Berklee College of Music (just to name a very few), so studying in Massachusetts will require narrowing down your long list of world-class institutions to a hand full of top choices based on personal academic interests and long-term career ambitions. If you are looking to improve your English skills, there are plenty of programs to choose from. Whether you are looking to live in the heart of Boston, such as studying at Computer Systems Institute - Massachusetts, or if you'd rather be in a more rural setting, Massachusetts has an number of schools and settings to choose from.
For those who study in Massachusetts, it won't be all work and no play, however, as Boston resident Jessica P. reassures us. Jessica moved to Massachusetts to study in Boston after being accepted to the prestigious Boston College in the Chestnut Hill area. When asked what specifically international students who study in Massachusetts have to look forward if they want to live and study in the Boston area, Jessica had plenty to offer, "Boston is a great place for international students because so many people in this city are students themselves, and a lot of us aren't native to the city either." A native of Florida, Jessica explained the advantages of being alongside plenty of other young people and college students who are in the same process of "acclimating themselves" to a brand new city and place. "People may be coming from rural or suburban parts of the United States, or from vastly different climates, and are learning to cope with chilly New England winters just like you", Jessica goes on to explain. Jessica acknowledges this trend as a wonderful way to meet and bond quickly with new and interesting people while studying in Massachusetts. With that in mind, Jessica quickly points out that there are also plenty of Boston natives who are more than happy to show new-comers the ropes. She humorously adds that Boston natives are a wonderful and important part of living and studying in Massachusetts, "because someone has to teach us all how to layer clothing and say 'Worcester' correctly!" For international students who study in Massachusetts, Jessica insists that the number of schools and population of students living in the Boston area alone is a huge selling point and that the city itself is, "far more manageable in size and scope than say, New York or Los Angeles."
If you need additional funding to study in Massachusetts, explore financial resource options like scholarships and loans.
Learn More
As for transportation, Jessica insists not having a car is no excuse for not having a great time, as she puts it, "There's a joke that in Boston you are never really more than two miles away from anything; it's very walk-able." As for fun things to do while you study in Boston, Jessica recommends checking out Boston's great "pub culture", wandering the city's many historic sites and parks, visiting the Museum of Fine Arts, people watching at the Public Gardens and Newbury Street, trying out sailing lessons offered by local universities (such as MIT and BU), attending a Red Sox game, or hiking one of the many great trails around the area. There is something going on every weekend in this city, "be it chili cook-off, a beer and bacon festival, the Tall Ships exhibition, free entrance to a museum, or concerts by local bands, national acts, or the Boston Symphony Orchestra." As she put it, when it comes to living and exploring while studying in Massachusetts, "you really don't ever have an excuse to stay in, even on the coldest of nights."
Study English as a Second Language in Boston
For students with goals of studying English as a Second Language (ESL), Chicago is an ideal location to do so. With a very multicultural society and people of many unique backgrounds living in the area, it is a great place to learn and practice English on a regular basis. The city offers two locations with Kaplan International English School campuses where English as a Second Language is taught in a classroom setting that includes flexible schedules, Business English courses, exam preparation, and long-term English Intensive courses. Boston has a large student presence and Harvard and Boston University are both nearby, promoting an academic atmosphere. Students can also enjoy a large number of cafes, theaters, museums and public parks. This Kaplan program will make the ease of transitioning to a new country and busy city simpler for any international student.
For more information and to search schools to study in Massachusetts, and to contact them for free for further information, please visit the Study in the USA School Search.