---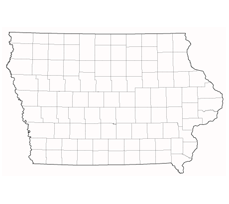 Capital - Des Moines
Largest City - Des Moines
Population - 3,007,856
Timezone - Central Time
Study in Iowa
International students in Iowa might want to beware of the University of Okoboji. The founding fathers created a university whose curriculum is fashioned not in academia, but celebration, an institution whose alumni promote get-down-and-boogie, not book worms, according to vacationokoboji.com. Some students might ask, what is so wrong with that? But the University of Okoboji is a fictitious college, having arisen from an inside joke between brothers.
"It was approximately 30 years ago when Herman and Emil Richter joked about the fun and camaraderie they enjoyed while playing sports with a group of friends in their allegorical 'Camp Okoboji.' This whimsical assembly eventually assumed the name, University of Okoboji, and a celebrated college of fun was born," according to vacationokoboji.com.
Keeping alive the joke and tradition, clothing and trinkets are sold with the University of Okoboji emblem and a whole score of extracurricular events, such as soccer tournaments, homecoming, triathlons and the most popular, Winter Games, occur year round at the fictitious location of the University of Okoboji, on the edge of the Iowa Great Lakes.
International students who study in Iowa shouldn't be too disappointed that this ideal university is a farce. There are 3 regent public universities in Iowa and 15 community colleges that serve more than 150,000 students, along with a variety of private higher learning institutions in more than 20 cities and with more than 30 additional satellite campuses.
Two of Iowa's public universities both ranked in the top 100 out of 1,400 schools in U.S. World and News Report College Rankings 2011 for national universities.
Founded in 1847 as Iowa's first public institution of higher education, the University of Iowa is ranked 72. Within walking distance from Iowa City, students can choose to live on or off campus and freshman are not required to live on campus, unlike many other universities and colleges. Sports are a major part of campus life. The University of Iowa has the smallest student population of any other school competing in the NCAA Division I Big Ten Conference, with an undergraduate enrollment of just more than 20,000 students.
The University of Iowa also has graduate programs in medicine, law and management. Slightly bigger in student body than the University of Iowa with undergraduate enrollment totaling more than 22,000 students, Iowa State University is ranked at 94. Also part of the NCAA Division I Big Ten Conference, Iowa State University Cyclones and the University of Iowa Hawkeyes have a sporting rivalry.
Iowa State University is located in Ames and is only 30 minutes away from the state's capital, Des Moines.The university has one of the nation's only degree programs in human computer interaction and boasts the biggest collection of art of any school in the country.
Drake University, a private university in Des Moines, was ranked third in the U.S. World and News Report College Rankings 2011 for regional universities in the Midwest. Although it is a smaller college, with only 3,500 students enrolled, Drake University still has a lively Greek society and comprises six schools and colleges.
If you need additional funding to study in Iowa, explore financial resource options like scholarships and loans.
Learn More
Iowa, located in the Midwest, also known as the "American Heartland," is a great place for international students who want to experience an authentic piece of America.
CQ Press's annual State Crime Rankings have Iowa ranked number 10 in the list of the safest U.S. states in which to live.
Students will find that they can take a break from their studies to explore the many idyllic outdoor scenes Iowa has to offer.
The Iowa Great Lakes are glacier-carved lakes in the Okoboji area that extend from the Minnesota border and cover approximately 15,000 acres. Iowa's largest natural lake, Spirit Lake, and five interconnected lakes, are all part of The Iowa Great Lakes. Boating and bathing are normal activities in these lakes.
International students may also want to see the covered bridges of Madison County, made into legend by the book and movie. Each bridge has its own rustic charm that can only be fully appreciated in the context of its country setting.
For more information and to search schools to study in Iowa, and to contact them for free for further information, please visit the Study in the USA School Search.
Related Content: