International Sim Cards
---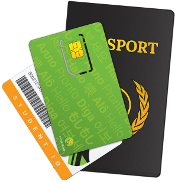 An international sim card can be one of the best ways to cut your roaming costs and international calling expenses when you travel or study abroad. Most people already have a mobile phone and many do not realize that you can take your mobile phone with you around the world.
To do this, you need to check that your phone is:
Tri or Quad Band Mobile Phone (most GSM phones today are)
Unlocked (What's this? )
If you meet these basic guidelines, you can keep your current mobile phone and simply change the sim card in the back. It will instantly give you a local number, lower cost calls and you will totally avoid all roaming charges that are traditional when you use your phone abroad.
Please click on the appropriate country below to learn more and purchase your sim card online:
Why international SIM cards are your best choice
A SIM card when abroad can often be the most cost effective and convenient way to stay connected. Find a provider with a flexible plan tailored to your needs as a student. If possible, arrange for that provider to mail you your card before you leave. That way, it is ready to serve you the moment you arrive. As a SIM card user, you'll be given a local number.
With a local SIM card and your unlocked phone from home, you'll have all you need to get a local number and enjoy local rates. Simply swap out your old SIM (making sure to save it for when you return home), activate the new card with the provider, and you'll be good to go.
Plan ahead
Success while studying abroad requires preparation. Part of that preparation is making arrangements for a SIM card service before you arrive. That way, you can use your phone immediately without service interruption or expensive roaming charges during a change in service. If you're traveling to the USA, we offer SIMs through the only provider in the world dedicated to international students, campusSims. We also offer SIMs if you'll be traveling to Australian , Canada, and New Zealand.
Please visit our international sim card page for more information about sim cards for other countries around the world.