Homestay Programs
---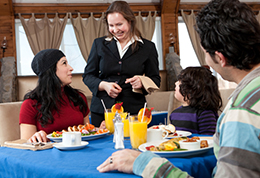 When you travel or study abroad, there are often many accommodation options available during your time abroad. One of the most rewarding experiences can be a homestay with a local family, which allows you to really experience what life is like in your host country. It offers a "real-life" experience that is second-to-none, and you will find that it could be one of the most rewarding parts of any international experience.
What exactly is a Homestay?
Homestay programs arrange for international students to live with local families in their host countries. Living situations in homestay programs range from basic room-rental arrangements to complete family immersion. In a homestay program, you will typically have your own room, but join the family for meals and take part in their normal daily routine. In most cases, host families tend to be families that have younger or teenage children themselves, but homestays can actually be offered by anyone. Host families often choose to offer homestays because it's a great way for their own children to meet with international students and be exposed to different cultures.
Why Homestays?
There are many reasons that homestays are a great solution for international students, including:
Price
As you will be staying in someone's home, homestays tend to be an affordable option. The families offering their house as a homestay are typically not doing it for financial gain so they can be excellent cheap accommodation options. Homestays are often the cheapest accommodation option because cost of room and board generally includes meals, laundry facilities, and occasionally some light cleaning services. You may also be provided with a guaranteed number of meals a day, which will save you money in groceries, and allow you to splurge a little on fun excursions and souvenirs during your stay (not to mention try local dishes and foods!).
Culture
Staying with a local family will really submerse you into that culture and life. Homestay programs provide students with a more authentic cultural experience. In most cases you will spend evenings and free time with your host family, having mealtimes and social time with them, and experiencing daily life in your host country. Living with host families will provide you with more opportunities to experience local cuisine, as well as local events and places that most tourists and other visitors to the country will be unaware of. Additionally, host families can serve as tour guides and give you tips on how to get by in your new environment.
Language
One of the best ways to learn a new language is to be fully submersed into that language. There is no better way of submersing yourself than with a homestay! If you are living in a dormitory or hostel, you will almost inevitably fall amongst people who speak your native language. In a homestay program, you will be required to converse in the native language of your host country, allowing you to improve your language skills. Your host family will most likely be thrilled to help you practice your skills. Having good language skills will make living in a foreign country far easier; you will be better able to explore the country and meet new people.
Friends
Although most college students and young adults in homestay programs have been away from home before, finding yourself in an entirely new country, far from your friends and family can be a lonely and daunting experience. Homestay programs are a great way to make new friends, as in most cases, homestay families have children themselves, often around the same age as the students they are hosting. Homestay families also provide a good support system for international students who are far from home, and friendships are often formed between hosts and students that last a lifetime.