---
Student Car Rental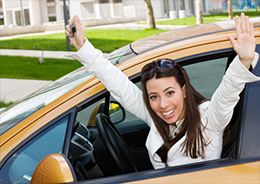 Renting a car as an international student is sometimes not easy, especially if you are under the age of 25 as most major car rental companies will charge you double to rent a car or in some cases not even rent a car to you. But, we all know that in most cases a car is the easiest way to get around, giving you flexibility and choice!
There are not many options available for international student car rentals, but if you are located in California a great option is:
SuperCheapCar.com — Although they have limited rental locations, mostly on the west coast of the USA, they offer some of the best deals for international students and gear many of their offerings to international students.
As for other options, the main providers of Hertz, Avis, Dollar, etc… are also available but you will need to make sure you check all the fine print before you rent.
What to look out for when renting a car abroad?
Renting a car abroad can be a fun way to explore that country/ destination, but you need to be careful and watch out for a few things when renting a car abroad:
Always be sure to check the age requirements. Most companies will allow those from 18-25 rent a car but they will add a surcharge for doing this that is sometimes added to the final bill when you pick the car up.
Make sure you are covered with the right collision damage insurance cover. All companies will offer this, but some may offer this as an added extra which can push the price up - make sure you have this insurance in place and that you know the full details of what is covered.
Personal accident insurance. If you do get into an accident, be sure that your personal health/ travel insurance provides you with adequate coverage in case you are in an accident and need to seek medical treatment.
Read the fineprint! Always make sure you read the fineprint of your car hire as things could be hidden in there!
FINALLY - Make sure you have the correct license and you can drive in the country you are traveling to!
Related Content: