---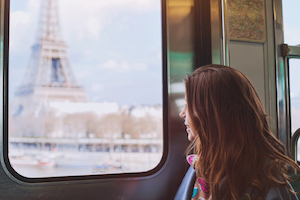 Rail Pass Center
With the cost of air travel constantly increasing, even for so-called "low budget" airlines, it is becoming harder for travelers to get around without spending too much money. Even if you do find a good flight that is cheap, you can get hit with surcharges all over the place for excessive luggage (sometimes for just a carry-on), or for not checking in online!
No matter where you choose to study, if you will be traveling during your stay you will want to explore rail travel. Why travel by rail if you're studying in the US or Europe? Read on to find out!
Rail Travel in Europe
Traveling by rail has grown in popularity over the last few years, especially in Europe, and although it still has a bad reputation in many parts of the world - the European rail system is both vast and very speedy! In many parts, there are also night trains - so you can sleep on a "couchette" and arrive the very next morning for more exploring. But why is rail travel in Europe so good? See why international students in Europe should travel by rail:
Extensive Rail Network: European countries tend to have very extensive networks, so that you can travel from Berlin to Paris and then on to London- all via rail. It allows you to explore more places, on a stricter budget.
Discounts: Rail systems in Europe know that students are traveling via rail and are also on a tight budget. Many, like Eurail, offer youth rail travel discounts.
Get there Fast: Most larger European countries have very fast rail networks, the SNCF in France and ICE trains in Germany are some of the fastest and more reliable networks in the world.
No Luggage Limits: Unlike planes, you have no luggage limits on trains, so you can take as much as you can carry with you, saving you money!
Point to Point: Most railway stations are right in the middle of the city center, so you do not have to spend time and money on taxis getting to hostels or hotels, as most of the time you will be pretty close to everything you need.
Arrive and Go: There is no need to check in ahead of time, with a rail pass, you just turn up, walk on the train and go, without the hassle of a security line!
Learn more about European rail travel options and tickets through Eurail:
Rail Travel in the United States
Flying in the US can be a great travel option in most cases since it's such a vast country, but sometimes a trip just calls for something else. Along with hefty fees to fly throughout the US you can also be faced with other hurdles such as layovers, numerous restrictions on luggage and belongings, cancelled flights and long wait times throughout the process including at check-in, security, and baggage claim; these combined with all of the advantages of travel by train through the US can be very enticing to choose rail travel. When you travel by rail through the United States you can enjoy many perks like the following:
Roadtrip Without Driving: Roadtrips are a great way to travel on a budget and explore the US. However, since most international students in the US do not own a car this means they have to rent one. While cars can be rented for less than $40/day that adds up fast- especially after adding in gas. Plus, if you're not over the age of 25 you either will have to pay an extra fee to rent the car, or won't be able to at all. Train travel means a road trip without worrying about having to rent a car or driving.
Explore the Unknown: Many train routes in the US go through small towns, rolling fields, rivers and mountains. They offer a unique scenic experience that sometimes isn't available even when driving or flying.
Multitask During Travel: Although self-driving cars are (basically) here they're not yet to the point where you can take a nap while the car gets you from one city to the next. When riding the train you can multitask by not only traveling and exploring cool parts of the US, but you can also knock out an essay or catch up on your Netflix shows before you arrive.
Dining Car and Restrooms: With restrooms and dining cars on the train you don't have to factor in extra time for bathroom and meal stops during your trip. At any time you can walk throughout the train to stretch your legs and grab a sandwich (or glass of wine).
Bring it Along: Just like with rail travel in Europe you don't have to worry about paying an extra fee if your bag is too heavy! Plus, most trains now allow you to bring along your bike which means you'll have a mode of transportation to explore the city you arrive in.
InternationalStudent.com is a participant in an affiliate advertising program designed to provide a means for sites to earn affiliate fees by advertising and linking to the organization listed on this page.