Student ID Cards
---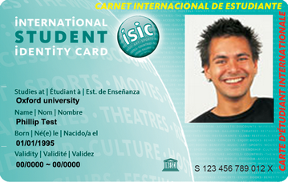 For International Students around the world, the International Student Identity Card (isic) is a discount card available to students who are studying full time at a school, college or university and are between the ages of 12 and 99. The card benefits are wide ranging but essentially offer you the opportunity to get discounts at major venues and attractions. To see the long list of benefits, and to apply directly online for this card, please click here .
Apply Online
Summary of Card Benefits
On average, 12,500 isic cards are issued per day because of the savings that students can receive. Additionally, it's the only globally recognized student ID. The isic card is good for one year from the time of purchase and provides students with a number of excellent savings. There are more than 160,000 discounts and benefits worldwide and 125,000 offers in over 2,300 locations around the United States. Students can use the isic search tool to find specific discounts that are offered in cities around the globe. With an isic card you will receive discounts on accomodation, culture, food & drink, entertainment & attractions, services, shopping, sports, travel and study.
Who Is Eligible?
If you're interested in purchasing the isic card then you must simply meet the following:
Be at least 12 years old and studying at least 12 hours a week, minimum 12 weeks a year.
When purchasing the isic card you must show proof of your full time student status and provide a photo ID along with a passport style photo.
How Long Does It Take To Get One?
After purchasing your isic card it takes approximately 15 days to get to you through mail. If you need it sooner we can get it to you in as little as 2 days for an additional $20.