Student ID Cards
---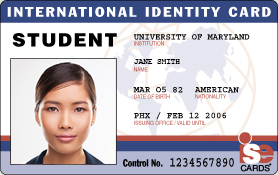 For International Students around the world, the International Student Exchange (ISE) ID Card is a discount card available to students of any age, faculty, and youth under 26 years of age.The cards benefits are wide ranging but essentially offer you the opportunity to get discounts at major venues and attractions, worldwide assistance and bankruptcy and medical protection. To see the long list of benefits, and to apply directly online for this card, please click here.
Apply Online
Summary of Card Benefits
The ISE Card provides students with a number of excellent benefits, including:
Discounts - The ISE Card opens the door to a world of savings. Our worldwide network of discounts currently includes Europe, USA, Korea, Singapore, Egypt, and Australia. This card allows you to obtain discounts ranging from 10% to 50% on entrance fees to museums, castles, and palaces and, in some cases, grants you free admittance. You'll also qualify for the special student rates and discounts offered by hotels, restaurants, shops, language, schools, theaters, concerts, operas, cinemas, recreational facilities, rentals (auto, motorcycle, and bicycle), bus routes, boat routes, railroads, and selected European airlines.
Worldwide Assistance - The ISE Card provides you with important protection while abroad. Once you become a member, you will be provided with a phone number you can call from anywhere in the world. We are there for you 24 hours per day, 365 days per year, to assist with lost passports, travel documents, or legal problems. Emergency cash can also be sent to you abroad.
Who Is Eligible?
There are a few classifications who are elligible for the ISE Card:
Students at least 12 years old, enrolled in a program of study during the current or prior academic year. There is no upper age limit
Faculty/teacher members from all educational institutions are eligible for the ISE Card - Faculty/Teacher version. There is no upper age limit.
Young people under the age of 26 who do not qualify for either Student or Faculty/Teacher status are eligible to apply for the ISE Card - Youth Version. Although the Youth Card does not offer as many discounts and concessions as those available to the Student and Faculty/Teacher Cardholders, it does provide all the important travel protection and medical benefits offered with the ISE Card.
How Long Does It Take To Get One?
If you order the card from ISE Cards, Inc., it takes approximately one week to get it to you. We can get it to you in as little as 2 days for an additional $10.