What to do When Your F1 Visa is Denied
---
What to do When Your F1 Visa is Denied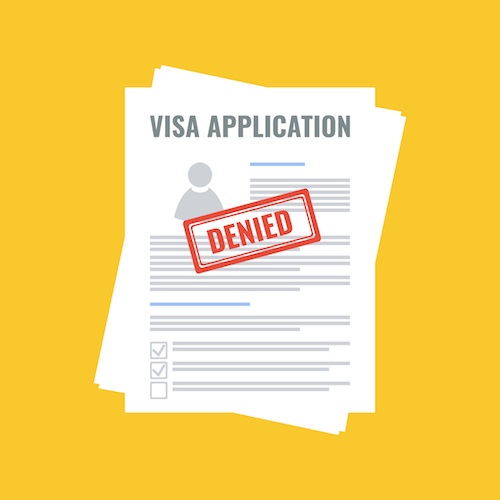 Studying in the United States can positively impact your career and bring you numerous opportunities and success, however, before you can study inside the US you must first go through the student visa process. International students who have already gone through the F1 visa process are familiar with the stress of applying and interviewing during this time and find it to be overwhelming, tedious, and require a lot of paperwork and patience. Some candidates can prepare for months, only to have their student visa denied. What happens if this scenario happens to you? It's important to stay calm, gather information on your denial and then try again
Why Was My F1 Visa Application Denied?
After receiving your F1 student visa denial it is important to understand why it was denied. Keep in mind that there is not an appeal process, but reapplying is an option. You would receive news about the rejection from the embassy or consulate you applied to, and it is possible to ask the consular officer the exact reason for the denial. If the problem is something that can be fixed then you can start over and submit a new application.
Common Reasons for F1 Visa Denial:
Intent to Remain in the U.S. after Finishing School
Have you been denied your F1 visa? If so, consider contacting F1 Visa Advisors, Inc. for personalized advice.
This is the most common reason why a visa officer may reject your F1 visa application, and the most important factor they look at during the interview. If the visa officer has the slightest thought that you have no intention of returning to your home country, that is grounds for rejection. Be prepared to express your family ties, immovable property, or businesses that you have in your home country. Do your best in your second interview to clarify that you will return to your country after graduation.
Lack of Proper Financial Support
Your financial situation may have played a part in your rejection in your first application. Having a lack of proper financial support would mean you would need a job to fund your studies, which contradicts the reason for having a student visa. The visa officer wants to make sure that you have the funds to sponsor your education and living expenses during your stay in the country. When applying for your visa the second time, make sure you show you have the necessary funds to become an international student. There are multiple ways you can fill the financial aid gap such as scholarships and loans.
Suspicious University, Degree, and Goals
It is important that your academic credentials are genuine and do not lead the visa officer to become suspicious. The visa officer looking over your application may question the credibility of the university, program, or degree that you have applied for. They want you to demonstrate your credibility as a student. Having low test scores and low-level English skills often calls for immediate rejection. Also, during your interview you will be asked questions regarding your academic plans. Failing to explain why you chose your course and university is strong grounds for rejection. Make sure you explain your goals as clear as possible to the consular officer and that they are in congruence with your previous studies or work.
Poor Interview
The interview is a large part of the application process. There is a lot at stake which means your visa interview should be taken seriously. If your interview was the reason you were rejected, you will want to perform a self-evaluation and make a list of ways you can improve your interview skills. For example, perhaps you need to practice making eye contact and being able to answer questions in well thought-out sentences on the spot.
Punctuality is crucial to Americans, so be on time
Hold yourself with confidence
Be honest
In general, visa officers expect candidates to be well-mannered and self-assured, so any inkling of nervousness or lack of confidence could mean another rejection of your F1 student visa. Identify your weak spots and work on them prior to your next interview.
Lack of or False Information
It is crucial that all your information is current and correct. A lack of documentation shows that you do not take the process seriously and that you may have something to hide. Therefore, make sure you have all the necessary documents asked for by the consulate or embassy. These documents also must contain real and honest information. The last thing you want to do is lie to the visa officer. False information or documents would call for immediate rejection. Be sure that all your information is correct and consistent.
How to Re-apply for an F1 Visa
If you want to apply for an F1 visa again then a new application must be created, the visa fee must be paid again, and another interview needs to be scheduled. There is generally no rule for when you should reapply for your student visa. However, after your initial rejection it is best that you spend time understanding why you were denied and then take the necessary steps to solve this problem. You can re-apply when you have new information that can convince the officer that you are a worthy candidate for the visa. If you schedule your second visa interview too soon and your situation has not changed since your denial, you risk receiving another denial.
If your student visa was denied due to a lack of important documentation or information needed by the visa officer, your application will be reviewed again. You will be given a letter that contains a list of the documents that are needed to continue with the process. Follow the directions of the letter and turn in the necessary documents. If your visa was denied due to administrative processing, then there are no other actions to be done except for periodically checking your application status.
Preparation and Tips for Reapplying for Your F1 Visa
The key to success will be understanding why your F1 visa was denied and correcting the problem. However, to help ensure the rest of your application process goes as smooth as possible, here are some additional ways to strengthen your application:
Be clear of your intention to return to your home country after the duration of your time in school in the country.
The interview process will be done in English, so it would benefit you to practice and sharpen your English skills. Do not prepare a speech but be ready to have a conversation.
Study the program you are going into and be able to explain how it pertains to your future career.
Bring all documents related to you coming to the US. Providing scholarship letters, admission letters, all financial documentation, and letters of recommendation will increase your chances of approval. The more information you have, the better the chances that your student visa will not be denied a second time.
Be concise and have an enthusiastic attitude during the interview. Visa officers are usually under time pressure so it would be beneficial for you to have answers that are short and to the point.
Get personalized advice and guidance from an immigration attorney.
How Many Times Can You Apply for an F1 Visa?
There are no restrictions to the number of times you can reapply for a visa, so candidates can apply as many times as they deem necessary. However, those who reapply should provide the visa officer with new information and solutions to problems seen in the previous application. Reapplying with no new information would be a waste and a sure way to be refused again for the same reasons.
Additional Things to Consider
Some students may face delays due to "administrative processing," which occurs when your name is similar to another candidate. The consulate will have to contact other government agencies about your status and background. This may also occur when your field of study requires sensitive or important technology. Some visa officers may require letters from academic advisers explaining what you are studying or researching and what technology you will be working with. You may be asked to talk about past visits to the United States or any prior visa statuses held by family members. Also, different countries have different requirements for obtaining visas. You should research your country's requirements on their U.S. Consulate's website.
We understand that it can be discouraging to have your visa request denied. But it's important not to give up as many students have faced the same challenge as you. If you're looking for extra guidance, you may want to consider working with an immigration service like F1 Visa Advisors, Inc. Learn more about F1 Visa Advisors, Inc.
Related Content: