---
Map and Climate
The maps below will help you locate the UK's major cities and will show you how the UK divides up into England, Scotland, Wales and Northern Ireland. Each country is then further divided into counties.
England, Scotland, Wales and Northern Ireland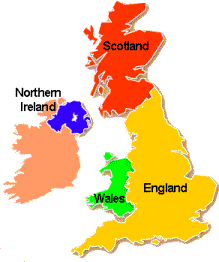 UK Major Cities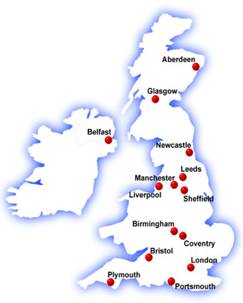 General Climate Conditions
The UK has a reputation for having cold, wet and dreary weather. Although this may be true for some times of the year, the UK is actually much better than most think - and can have some great weather during the summer months.
If you wish to get the most out of the UK, then the times to visit are the summer months when days are long (the sun generally rises at 4 am and will set at 9 or 10 pm at night) and you can expect warmer temperatures.
Generally, there are four distinct seasons to the UK; summer, winter, spring and autumn.
Summer
The summer months are by far the best times to visit the UK if you are looking for warmer temperatures and longer days. Expect temperatures to be in the region of 15 to 25°C (59° - 77°F), but the UK has experienced even warmer conditions (over 30°C/86°F) over the past few summers.
You can, of course, get rain during the summer months, but generally summer is a wonderful time in England.
Spring
Spring runs from March to May and offers some of the prettiest times to visit England with blooming flowers, warming temperatures and cheerier dispositions. Although temperatures during these months generally range from about 5 to 15°C (41° - 59°F), don't be surprised if winter last longer or summer comes early – springtime weather in the UK is unpredictable!
Winter
Winter generally runs from November to March - though you can expect this to run longer during some years - and is characterized with cold weather, rain, sometimes snow and fog. Winter days in the UK the days are short and nights are long, with the sun rising at about 7 or 8am and setting at about 4 pm.
Temperatures during these months often range between 0 to 7°C (32° - 45°F) and although sunny days are possible they will be cold. If it does snow, which is more likely in the northern part of England and Scotland, accumulation will generally only be a couple of inches and will not last long. It is rare for England to have snow that will blanket the country.
Autumn/Fall
If you come from a part of the world where seasonal changes are not very dramatic, you will be enthralled by fall. Autumn arrives in September, with dipping temperatures and shortening days, all as a pre-cursor of the winter to come. Temperatures during autumn will generally be anywhere from 5 to 15°C, but fall can provide beautiful weather, especially in light of the long dreary winter ahead.
Rainfall
The UK is an island, so it receives a large amount of rain. It can rain during any season and on any given day – so bring your umbrella!
Geographic Differences
In these pages we provide a very general overview of UK weather and seasons. Obviously there are geographic differences in weather patterns through the UK that can be fairly dramatic. For instance, because it's located at the extreme north of the island, Scotland can be much colder during both winter and summer months. For weather information specific to your locale, visit the Met Office Website.
Related Content: