Money Matters
---
The currency throughout the UK is British Pounds (£). Generally, you will deal with the following notes and coins:
£100 Note
£50 Note
£20 Note
£10 Note
50p coin
20p coin
10p coin
It may take you a while to get used to the exchange rate from your country. The following website will help you calculate exchange rates in the short term http://www.xe.com/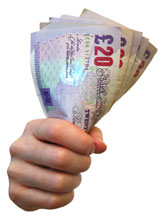 Bank Accounts
International students are allowed to open a bank account in the UK, and some universities require their students to have a UK bank account. In any event, a bank account is very helpful to have in managing your finances, and you should plan to open a UK account.
Before you leave for the UK, speak to your current bank to discuss the best options for transferring money to a new account in the UK. Also, make sure to bring a bank card or another method to access money you have in your home country bank account- as it could take several weeks for you to open a new UK account and transfer money into it. As an alternative, you could bring several hundred pounds worth of travellers checks to cover the first few weeks.
Before leaving your home country, you should also research UK banks - you can ask your university for advice and research online - and start the process of opening your account before you arrive. That way, you will have selected a bank before arriving in the UK and you will be sure of exactly what you need to bring to the bank when you arrive. When selecting a bank, pay attention to fees and what services the particular account offers – a debit card is very helpful, especially if you don't already have a major credit card.
Although you should double-check with your selected bank, to open a bank account in the UK, generally you will need the following:
Your passport (or you can also use your national identity card if you are from an EU country)
Your unconditional acceptance letter from your university; and
Evidence of your current address in the UK (for instance, your tenancy agreement or student accommodation contract)
A "basic bank account" is the type of account most readily set up by international students. However, since basic accounts often don't provide bank cards or check books, you should check to see if your bank has a student account or another type of account that will allow you these conveniences. Altogether, the process of opening a UK bank account can take around two weeks.
The British Bankers Association produces an excellent guide to opening a UK bank account for international students, found here: http://www.bba.org.uk/pdf/40746.pdf
Debit or Bank Cards
Debit cards, or bank cards as they are commonly called, are an excellent option for international students. Many banks now typically provide a bank card when you open an account, but be sure to double-check. The bank card is affiliated with a credit network, like Visa or Mastercard, so you can use your card to withdraw money from a cash point and you can also use it just like a credit card to make purchases online or in stores. Unlike credit cards, when you use a bank card the money is instantly taken from your account, so if you do not have enough funds in your bank account, the card will be rejected. For students new to the UK, a bank card is critical as it allows you to do things and make purchases that require a credit card - like airline tickets, theatre tickets, rental cars, mobile phones and online purchases.
Credit Cards
Credit cards are also available to international students. Like debit cards, credit cards allow you to make purchases online and access services that you cannot access with cash or checks. A credit card is also a good idea if you want to maintain good financial records, as your monthly statement will serve as a reminder of how you're spending money.
A credit card, however, may turn into a very expensive payment option, if you are not able to pay the balance on the account within the specified grace period -- typically between 20 and 30 days. Be careful to read all of the details of the credit card offer before committing to it; some companies offer a special low introductory interest rate (perhaps 2.9%), but then increase it dramatically (to about 18.9%) after that introductory period. Also know the structure of the credit card company's annual fees, such as how much and when they charge it to your card. As usual, learn all you can before you make a decision.
Some companies are reluctant to issue credit cards to international students, as they do not have an established credit history. If you already have a major credit card from your home country (like Eurocard, Access, Chargex, Barclaycard, Carte Bleue, American Express, Visa or MasterCard), bring it with you; after the U.K. bank reviews your credit limit on the foreign card, they may be more likely to offer you a credit card. Banks with which you have accounts are also more likely to accept your request for a credit card.
Related Content: