Study in Adelaide
---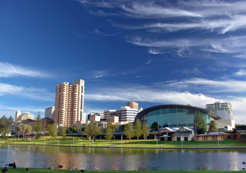 Adelaide is the capital city of South Australia and is the fifth largest city in Australia, with a population of about 1.2 million. Established in 1836 as a British colony, Adelaide is the original land of the Indigenous Kaurna people. It is regarded as the food and wine capital of Australia, and has the lowest cost of living of any city in Australia. What are the many reasons should an international student consider studying abroad in Adelaide?
Quality of Life
Adelaide is the most affordable city in Australia. Though Adelaide offers the same high-quality lifestyle and educational opportunities as any other city in Australia, studies show that it costs 20% more to live in Sydney, 19% more to live in Melbourne, 8% more to live in Brisbane, and 9% more to live in Perth.
In 2011, the Property Council of Australia ranked Adelaide as Australia's most livable city, and the year before, Adelaide was ranked among the top ten most livable cities in the world in the EUI's Livability Survey 2010. Adelaide has been called the world's most contented city; in fact, the New Yorker magazine once suggested that Adelaide is "the last well-planned and contented metropolis on earth."
Location
Adelaide provides its visitors with an authentic Australian experience, with 5,000 km of coast, rolling hills, sheep stations, vineyards, gold mines, salt mines, ancient mountain ranges, and outback deserts. It is home to koalas, kangaroos, echidnas, and platypuses—everything you might think of when you think "Australia!" Adelaide is also central to everywhere; it is located exactly halfway between Sydney and Perth, so nowhere in Australia is too far to travel. For example, a flight from Adelaide to Sydney takes under three hours. Adelaide also has an international airport with many direct flights.
Food and Wine
Adelaide is widely regarded as the food and wine capital of Australia. It has more restaurants per head than any other major Australian city. South Australia produces 50% of all Australian wine and is renowned for its National Wine Centre and food and wine events. Adelaide is home to the largest fresh produce market in the Southern Hemisphere: the Central Market. Adelaide is also known for its China Town and Gouger Street precinct.
Attractions
Adelaide has a little of everything: from its beautiful white beaches to its gorgeous hills to its wine district. International students who study in Adelaide will find something for them, no matter where their interests lie.
South Australia is known as the festival state. Adelaide hosts many international and national events year-round, such as the Adelaide Festival, Adelaide Fringe, Aboriginal Spirit Festival, WOMADelaide, Test cricket, Clispal 500, and Santos Tour Down Under. International students who study in Adelaide will have the opportunity to take advantage of these events, as well as many more.
South Australia is also known for its many parks around the city center. The parklands are heritage listed and acknowledge the traditional Indigenous Kaurna names and significance of each park. The parklands are a popular destination for both locals and visitors.
Transportation
It is easy to get around Adelaide. It has an integrated bus, train, and tram public transportation system connecting all parts of the city and suburbs, as well as safe roads for driving and cycling.
Universities in Adelaide
There are three high-quality universities in Adelaide. When choosing between them, it is best to first decide on your area of study. This will make it easier to decide which university is the best fit for you. The universities in Adelaide are:
University of Adelaide
Flinders University
University of South Australia
Related Content: