Study in Sydney
---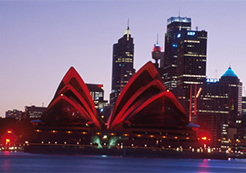 Sydney, founded in 1788, is the state capital of New South Wales and the most populous city in Australia. Sydney is located on the south-east coast of Australia and has more than 4.5 million inhabitants. It is widely considered to be one of the most livable and beautiful cities in the world. In fact, when most people think of Australia, it is Sydney that first comes to mind, with its beautiful beaches and iconic Sydney Opera House and Harbour Bridge. So what does Sydney have to offer an international student?
Things to Do in Sydney
Sydney is often considered to be one of the most expensive cities in the world, but it is not impossible for international students living on a budget to find lots of things to do.
For students who enjoy physical activity and nature, there are many places to hike, walk, and explore in Sydney. The Blue Mountains, located in the central areas of the Sydney Basin, offers a number of hiking trails for people of all athletic abilities to take short strolls, all-day hikes, or intense camping expeditions. Students drawn more to beaches can do the Bondi Beach to Coogee Beach walk. This walk takes you a little under four miles along the coastline, providing you with a view of various beautiful beaches and parks, and includes quite a bit of uphill terrain. You can also walk through the Royal Botanical Gardens, which feature a number of natural trails and sites. It is located along the Sydney Harbour, and features public art and sculptures scattered throughout the gardens. You might also choose to walk across the Sydney Harbour Bridge, the largest steel-arch bridge in the world. The bridge was opened on March 19, 1932, and walking it has since become a popular activity for both locals and tourists. Walking across the bridge will give you a unique view of the city and harbor, as well as the bridge itself.
Students interested in religious iconography might be interested in visiting some of the religious sites of Sydney, such as St. Mary's Cathedral. St. Mary's is an English-style Gothic church, and was the first Roman Catholic church in Australia. It features stained glass windows from England, bright mosaic floors, fourteen large "Stations of the Cross" paintings, church bells, an organ, and the church crypt. St. Mary's offers free guided tours of the cathedral and crypt every Sunday. You might also visit the Sze Yup Kwan Ti Temple in Glebe, built in 1898. It is one of only two temples from pre-modern times that still exists in Sydney.
Artistically-minded students will find no shortage of things to do in Sydney. The Art Gallery of New South Wales showcases modern and contemporary art from around the world, and offers free guided tours of its five levels of galleries, rotating exhibitions, films, and music. The Museum of Contemporary Art is the only museum in Australia "dedicated to exhibiting, interpreting, and collecting contemporary art from across Australia and around the world," and also offers free guided tours. Students with a bit more whimsical tastes might visit The Art of Dr. Seuss, which features limited prints, sculptures, and drawings by the legendary Dr. Seuss.
Other museums in Sydney include The National Museum of Australia, which is free to enter and features exhibitions on the land, people, and culture of Australia, and the Rocks Discovery Museum, which tells the story of the historic area of Sydney's city center, the Rocks. The Australian National Maritime Museum is also located in Sydney, and is free to enter on the first Thursday of every month.
List of Universities in Sydney
You will also find a number of excellent universities in Sydney with a range of degrees in concentration. From English language courses to pursuing an MBA, there are a number of universities to chose from including:
University of Western Sydney
Macquarie University
University of New South Wales
University of Sydney
University of Technology Sydney
Related Content: