---
Congratulations Khairul Amin Kamarulzaman and "Postcard"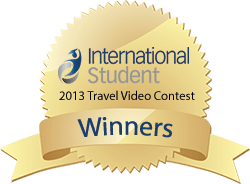 For many international students it took months of creativity and hard work to create a video that would reflect exactly what they wanted to share with the world. Because of this dedication we had an outstanding number of inspiring videos which made the job of our judges more difficult than they ever imagined! Although it wasn't an easy decision, it has been made. Check out the 2013 International Student Travel Video Contest winners!
$4,000 Grand Prize Winner: "Postcard" by Khairul Amin Kamarulzaman
Having traveled for the last three years, Khairul is now inspired to start a project he calls "POSTCARD." He's going to take his last journey before returning home and plans to make it the best not only for himself, but for those back in Malaysia…all with the help of his project. Congratulations Khairul, let the postcard sending begin!
"Postcard" was also the 2013 Viewers' Choice Award Winner, bringing his grand total to $5,000!
$500 Second Place Winner: "Online Inspiration" by Nicolas Bori
Not even financial woes can keep Nicolas down (or at home)! Watch him dance his way around the world and you might just get your own online inspiration! Congratulations Nicolas!
$250 Third Place Winner: "The Story of Me" by Jelani Paul
Jelani wants nothing more than to make his father proud. Let his imagination carry you through his journey and into his dreams of the future. Congratulations Jelani! With your talent, we know you will make it to USC.
Thank you to all of our finalists. Each year we are impressed with the talent we see around the world, and this year fell nothing short of blowing us away. We truly enjoyed your videos and are honored you took the time to share your story with us.
To keep up to date with all the current events at InternationalStudent.com, sign up for the newsletter today.
2013 Video Contest Winners
Total 3 items.
Since the past three years, I have been travelling all around the United States with my friends. I went to Grand Canyon Arizona, Texas, Florida and some other states. However, I will be graduating from college next year. Therefore, I want to travel for the last time before I go...
Studying abroad opened up so many doors and incredible experiences for me. During my exchange in Maastricht I learned how to travel extensively on a budget, how to plan, organize and finance on my own this other part of my education, traveling. I am returning to Maastricht now and want...
Story of the triumph against my father's death. It also gives an insight to my imagination on my dream journey to school of cinematic arts at USC. The story features one character who represents me.
Want to see more? Check out all the finalists for 2013 .