---
Congratulations Khairul Amin Kamarulzaman and all Finalists!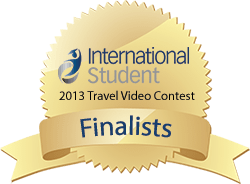 This was our second year to receive more than 100 videos from around the world and we couldn't have been more excited… or impressed! After buckets of popcorn and a few breaks we were able to watch each one and narrow it down to only 15 finalists. We won't ruin any surprises as to what you are in for, but look forward to 15 very different stories, each taking you on a new journey. Thank you for sharing your talent and dream with us by submitting your videos- and good luck to the final 15!
Although we narrowed down the list to the top 15 finalists, visitors like you picked the Viewers' Choice winner! With over a thousand votes, "Postcard" by Khairul Amin Kamarulzaman has won the vote of our visitors! Khairul will receive $1,000 and an automatic entry into the next round- we wish you success in your postcard project!
The 2013 Finalists are:
To keep up to date with all the current events at InternationalStudent.com, sign up for the newsletter today.
Can't find the video you're looking for? Check the full list of 2013 videos.
All efforts are made to ensure that votes are authentic. Any videos with fraudulent votes will be automatically disqualified from the contest.